I didn't taser Mahmoud Ahmadinejad, it turns out, but I did make an effort to mercilessly question his logic in my head. For instance, he said that science and education are torches that light the way for humanity. But what if humanity holds those torches for too long? Will we not get burned?
The reunion is just a few days away now. I cut myself shaving, which is usually thought to be a bad omen, though sometimes it signals a glorious windfall. It's a pretty deep cut, too. You know how it is, you start day-dreaming about saving the world and people holding you on their shoulders at your parade, and suddenly you notice the mirror is splattered in human blood. The cut might still be visible Friday. If anyone asks, I'll casually mention that I live in Greenpoint, Brooklyn, the most Polish area in New York. That should resonate with my classmates, because in '96 we put on the musical West Side Story, in which all the villains are Polish gang members. "Ah, The Jets got ya," they'll say.
There's a chance Jeremy Coon might not come to the reunion. If I had to guess whether he's going to make it, I'd say he might come... but he might not. Let me just say right now that if he doesn't appear, he forfeits, and I automatically win.

I did a Google Image Search for "Jeremy Coon," to see how he's looking these days, and this is the photo that comes up: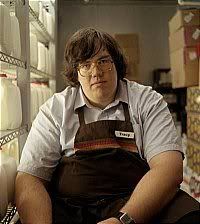 Jeremy Coon wears glasses now! No way will he want to show his four-eyed face at the re-union!
Also, get this. I don't mean to gossip, but according to sources, Jeremy Coon is no longer living in L.A., where he moved after the success of Napoleon Dynamite in order to pursue his producing career. He has returned to his old haunt, BYU, where he met all the people who came together for Napoleon Dynamite. Hmmm... mucho intéressant. But hey, no shame there.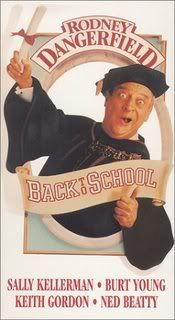 This is pure speculation, but one reason might be that he is a living legend there, as Napoleon Dynamite may be the most prominent film ever made by former BYU students. People at BYU must now regard him with awe, which probably isn't how they regarded him when he was originally a student there. And what's the point of all that awe if he can't revel in it? It was just hitting the Wasatch Mountains and dissipating, a total waste.
Another reason may be that BYU is evidently the most fertile ground in the country for cinematic creativity. Jeremy Coon no doubt wants to pluck those ripening talents from the Brigham Young vine. I submit that he hasn't given up. He's on to something big.
So this reunion happens to catch both of us at a down moment. Jeremy Coon's last two projects weren't the unmitigated triumphs he might have hoped, and I'm still stockpiling my potential. I'm just not ready to share my potential with the world. Not yet.
Though I did send my script to a producer yesterday, my "connection". If he reads it today, raises money on Thursday, then buys it on Friday, I'll be looking good. If that doesn't pan out, I still have the advantage of two hits in my past - "Who is Jim Holt?" and "Stuck in Delaware" - whereas Jeremy Coon only has one. His one hit is more known, however, which partially makes up for it.
If I had another month, the reunion would only catch one of us at a down moment: Jeremy Coon.
But that's alright. I never wanted to "Beat" Jeremy Coon per se. I just wanted us to have a good time at the reunion together. He insisted on making this a competition, and because of that, he might be a little embarrassed come Friday night when he doesn't have more to brag about. I'm willing to let his antics slide. I just wonder if the rest of our classmates will be so kind.