Jeremy Coon is the guy I was trying to beat all this time. If I'd interviewed him for the first entry, maybe I could have used those insights to increase my chances. Instead, I interviewed him for the last entry.
Even before I started this blog, I was waking up to the reality that I wasn't really accomplishing everything I wanted. My first realization came in the Summer of 2004 when I met Roger Ebert in person for the first time. I had been email buddies with him starting in high school, when he gave a nice write-up to a web site about movie production that I helped make to win a scholarship contest. I was also on his TV segment "The Viewer's Thumb," and had contributed a few cliches to his movie cliche handbook.
Essentially, we were best friends. I was going to a wedding in Chicago that summer, so I asked Ebert if we could meet up. He said we could, and I got to watch "Sleepover" with him, his wife, and Roeper. Afterward Ebert asked what I was up to. I told him that I'd co-written and co-directed a musical in Austin and was, um, working at a restaurant. "I thought you'd be a movie producer by now," he said. "Well, yeah, I'm kind of writing stuff," I stammered. "You're behind schedule," Ebert boomed.
Ebert took me out for a falafel sandwich and a broccoli/pear/lemon juice ("I'll just have to imagine it," he demurred when I offered him a sip of the juice) and I saved the plastic spoon that the deli had needlessly given me with the sandwich. I forgot to get my photo taken with Ebert, but I did at least take a photo of the drink and sandwich, sans spoon.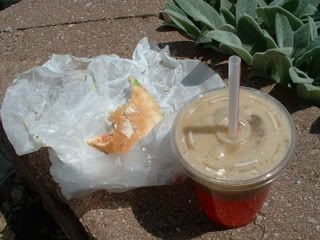 When I got back to Austin, I put the plastic spoon above my desk to remind myself that even Ebert knew I was behind schedule. After a day, I stopped thinking about the spoon, and after a few weeks, I'd lost it. Of course I was no closer to my goal, which meant that every morning I woke up, I was one more day behind schedule.
A couple of months after I met with Ebert, Napoleon Dynamite came out. I knew Jeremy Coon had produced it, but that didn't mean much to me until I actually saw it. I got a little misty eyed when I saw Jeremy Coon's name on a Lemonheads box in the beginning, but ultimately the movie - like Ebert - was another reminder that I was doing something wrong. This hit more of a nerve, though. This wasn't someone saying that generally a man in my position should be further ahead. This was someone who started off at the same place as me being wildly successful in the same industry I was aiming for when I'd barely taken a first step. Any illusion I harbored that biding my time was the proper strategy was totally shattered. As Napoleon Dynamite might have said in an earlier draft: "Curses!"
Jeremy Coon became my new plastic spoon. A plastic spoon I couldn't lose.
I started thinking about our approaching high school reunion, which seemed like it would prove to be yet another horrible reminder of my lack of achievement... unless I turned things around. Since I apparently needed some kind of external motivation to get me going, I made Jeremy Coon my enemy and arch rival, hoping this would give me the focus I'd been lacking.
When I look back on the two and a half years in which I maintained this blog (some weeks more loyally than others), it's curious how little I did that was actually a real contribution to beating Jeremy Coon. I basically acted as I would normally have acted. I moved to New York, got a bunch of random jobs, and did some traveling and some writing on the side, always regretful that I wasn't writing more. I did write a feature length screenplay in this time, which I think is a very good script, even though I still re-write it now and again. But I don't know how marketable it is. My brother sent it to a script reading service, and their overall response was that technically there is nothing wrong with the script, except that there is no potential audience for it.
It seems obvious to me now what I should have done. I should have written and directed a short relatively quickly, and then I should have written a screenplay that was much less complicated than the script I ended up writing (which essentially took three years, if you count all the gestating time - a good two years). This occurs to me because I currently had an idea for a movie that isn't as ambitious as the one I just wrote, but it's funny enough, and the outline basically has been writing itself.
It's too late to have the most impressive career at my 10 year high school reunion. But as I found out at the reunion, that didn't really matter. That reunion was just another reminder that I have goals that I haven't been achieving, and if I want to have the most fulfilling possible life, it would be wise to get on them. I've also learned it's possible that artificial exterior motivations are more distracting than focusing.
But I've been blogging about myself for years. What about Jeremy Coon, the mysterious figure that I used to put a face on my unsatisfied ambitions? Who is he, really? How did he feel about all this? Did I actually beat him? Now it's time for Jeremy Coon to have his say.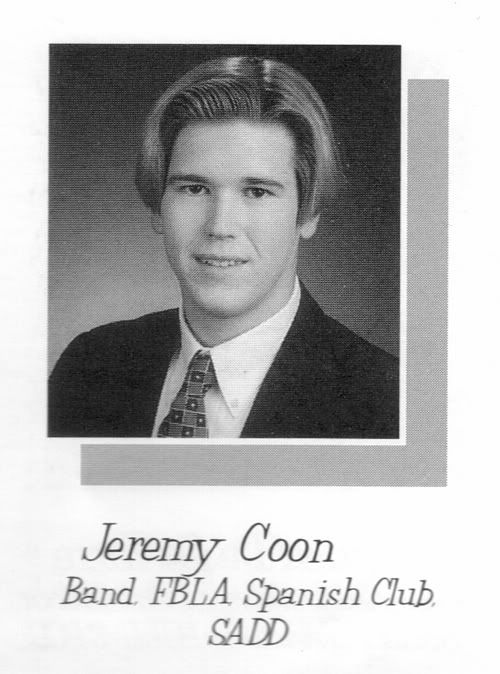 Beat Jeremy Coon: Did you figure out I would eventually want to interview you for this blog?
Jeremy Coon: Yep, but any idiot could figure that out. The climax would be the two of us meeting together eventually, and I'm sure there are literally almost a dozen people who are anxiously waiting to hear what I have to say.
BJC: Judging by the site meter, it might even be a baker's dozen. So, let's get into it. Weren't you on America's Funniest Home Videos for falling off a slide?
JC: Yeah, we won it when I was in 7th grade. It was a video of me when I was around 3 and I hit my head on the giant monster slide at Huffines Park over by Apollo [Jr. High]. I wonder if that park is even still there? I guess it made me kind of a celebrity in 7th grade, but the part that sucked was that our episode was never actually filmed, as far as I know. They flew us out to LA (which was my first time there) and they had technical difficulties on the stage (we were told a small electrical fire) so we were never there for the taping. I'm sure some people thought I was making it up bc we weren't on the show, but we still got a video camera, $5000, and a free trip to LA for the family.
BJC: *I* believe you that it really happened. Besides that you produced Napoleon Dynamite, which most Beat Jeremy Coon readers probably know, tell me about yourself. Where were you born, how was your childhood, how do you enjoy life? That sort of thing.
JC: Man, I really don't want to answer this, but here it goes. I was born in Dallas, TX and my childhood was pretty ideal. Richardson was a nice upper middle class neighborhood, which is about as generic as any place any one could grow up in. I think you explained it best in one of your early entries where it's a nice place to grow up, but it doesn't influence or effect you much. It's weird. Anyways, I was a fat kid and then thinned out around 10 or 11th grade. I loved being a class clown and making smart ass remarks in class, which continues now in business school. I love movies, skiing and snowboarding, going to concerts, volleyball, tennis, and traveling. Check out my myspace page for more.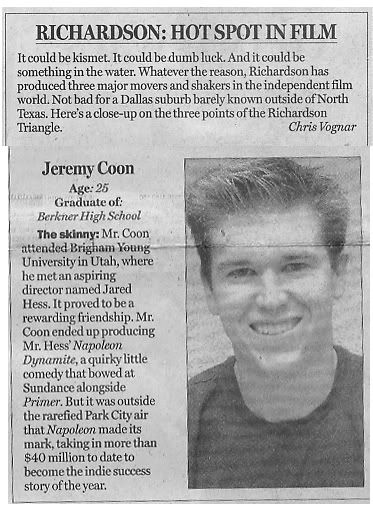 BJC: Have you always been interested in movies? I had no idea you wanted to be a filmmaker, which made Napoleon Dynamite all the more startling.
JC: I've been a huge film buff since I was about 7, when my dad took me to see Aliens in the theater. Originally as a kid I wanted to be a film critic and Roger Ebert was my idol. I got his new book of reviews every X-mas. I didn't really get into actual filmmaking until my freshman year of college when I had a lot of equipment and friends to make films with.
BJC: I read an interview with Wes Anderson in which he said his film critic idol was Pauline Kael; she'd retired by the time he was making movies, but he set up a private screening of "Rushmore" for her, just to see what the legend thought of his masterwork. Even though Rushmore got decent reviews overall (besides that two thumbs down from Siskel & Ebert), that was little consolation to Wes Anderson when he asked Pauline Kael what she thought, and she said she didn't know what to make of it. How did you feel when Napoleon Dynamite got mostly good reviews and was a hit with audiences, but Ebert didn't like it?
JC: I was kind of disappointed that Ebert didn't like ND, but what are you going to do. I wasn't devastated or anything, but it sucks when someone you've looked up to since you were a kid totally poops on something you've done.
BJC: What are some of your all-time favorite movies?
JC: My three personal favorites are The Wild Bunch, Blazing Saddles, and Aliens.
BJC: Did you like high school?
JC: I loved high school. It was basically all fun and very little work. Good times.
BJC: If you had kids, would you go out of your way to send them to Berkner? Or do you think there are better schools?
JC: I would go out of my way to make sure my kids didn't go to Berkner now. It was a great school when my older brothers went there and it was still good when we were there, but I could tell the school was starting to slide around our senior year. A friend of mine currently teaches there and was telling me stories about monthly gang wars, which sounded crazy. She told me that SWAT has even had to come in with guns drawn once. It's sad, but I think almost all public schools in this country are being neglected and are failing at providing a decent education, much less an exceptional one.
BJC: Earlier in the life of this blog, I would ask everyone I interviewed if they knew Bonnie Coover and if she'd said anything about me, since she was the first girl I "went with." Eventually I stopped asking that, but since you were close friends with her at some point, I thought I'd resurrect it for this final interview. Did Bonnie Coover ever say anything about me? She never said why she dumped me, but I later theorized it was because I was too prude (at the time).
JC: When did you and Bonnie date exactly?
BJC: Seventh grade. For almost a month.
JC: I really don't remember that. I didn't become really good friends with her until around 9th grade and was good friends with her through after high school, so I'm guessing it was before that. Either way, I don't recall ever talking with her about you, so unfortunately I can't offer any insight. Bonnie was one of the people I was hoping would show up at the reunion, bc I've lost contact with her over the last few years. So Bonnie, if you happen to read this, hit me up with an update.
BJC: Even before Napoleon Dynamite, something else helped pave the way for this blog. In 2002 or 2003, I believe, my girlfriend at the time visited her brother in Provo, who was coincidentally roommates with you. I came up in a conversation between you and her, and she said you said something to the effect of, "That guy was so weird in high school, he was an untouchable even to me." That comment, or at least her version of it, planted the seed of "Grr, Jeremy Coon!" in my mind. When Napoleon Dynamite came out, my first reaction was, "Wow, Jeremy Coon pulled it off!" and then I remembered the untouchable comment and thought, "I gotta beat this guy!" I admit, the half-mustache/half-goatee I had in high school was a bad idea. Was I an untouchable, though?
JC: I'm glad you brought this up, bc I feel I had to be misquoted. I have no doubt that I said the first part (sorry), but the second part about being untouchable doesn't sound like anything I would ever say. I'm not even sure what it means. It sounds like a bad, cheesy line from a movie. I seriously doubt anyone at Berkner was untouchable, so no I don't think you were untouchable.
BJC: Had you been thinking much about the Berkner reunion before I brought up the issue?
JC: I had thought about it as much as anyone does about their reunion, but you definitely made it more interesting, and I had to go.
BJC: Were you more flattered, disturbed or scared when you found out about "Beat Jeremy Coon"?
JC: To be honest, it was probably a combination of pissed off and a little weirded out at first. Later on when the blog became more lighthearted, I was more flattered.
BJC: How did you find out about it?
JC: We were in Portland shooting Sasquatch (so it was summer of 2005) and I was Googling myself to find an article someone wanted to see. I was scanning over the search results and I saw this "Beat Jeremy Coon" headline. My initial reaction was that it was weird that there someone else with the same name as me and then I read the summary of the site under the heading and it said something like "Jeremy Coon is my arch nemesis and I must defeat him" or something to that extent and something about Richardson and Berkner. I clicked on it and found out it was you doing the site.
BJC: What did Jon Heder think of all this?
JC: He just thought it was really bizarre and funny when I first told him about it 2 years ago. We never really talked about it that much other than an occasional comment here and there.
BJC: What was your favorite Beat Jeremy Coon entry?
JC: I'm not sure I can really answer this. It's weird and narcissistic to read what people think of you, especially when nearly all of the people you interviewed never really knew me. I had no idea Hilary Bryant even graduated with us. I thought she moved away in jr. high. The only person you interviewed that I was ever actually friends with was Nick Stevens, but he fell off the map after 10th grade and was rarely seen or heard from after that. His memory seems sketchy at best. This is the same guy that was a huge Dungeons and Dragons freak. However, it's interesting to hear people's unfiltered thoughts about you.
BJC: Nick Stevens did and does play Dungeons and Dragons, but trust me, he elevated it to a respectable art form. Once you found out about BJC, did you check it a lot? Did your family read it?
JC: Again, not to sound too narcissistic, but I did check it somewhat regularly, but who wouldn't if there was a similar site about themselves? Like once a week or so. As for my family, I know my parents knew about the site, as well as a lot of friends. BTW - Did you know that BJC was in the fun facts about ND in Premiere magazine a year or so ago?
BJC: I didn't know that. I need to renew my subscription! Were you ever worried I would take this rivalry too far?
JC: I wasn't ever worried really. I didn't think you'd be the type to do anything psycho and I was on the other side of the country. I also thought you had some issues from the Sean Connery Golf Experiment that didn't allow you to be in California. BTW - Did you ever get that cleared up?
BJC: Supposedly there was a warrant for my arrest, but that could have been a lie. I've been to L.A. twice since then. I didn't have any run-ins with the law, so I couldn't say if the warrant is real or not. Sara, unfortunately, got 400 hour of community service and a $500 fine when she pled guilty. She now very reasonably hates anything to do with Sean Connery Golf Project.
JC: I remember seeing SCGE at a film festival in Dallas (maybe the USA FIlm Fest) like 8-9 years ago and being like, hey, I went to school with that guy. I liked the film, but all I could think of were the legal implications, and then I saw something on Extra or Inside Edition about it a year later so you had notoriety well before I had any.
BJC: You saw Sean Connery Golf Project and Celebrity Justice? So then was Napoleon Dynamite an attempt to "Beat Rhys Southan"? What a paradox I created for myself! I feel like Bruce Willis in 12 Monkeys when he's afraid that in the process of going back in time to stop the virus that wipes out humanity, he accidentally gave Brad Pitt the idea to create that very virus, thus being responsible for his own destruction. Please tell me there's at least a slim chance you would have produced Napoleon Dynamite even without Sean Connery Golf Project lighting a fire under you.
JC: Don't worry, I feel confident that I would have produced ND even without SCGP to fuel my ambition.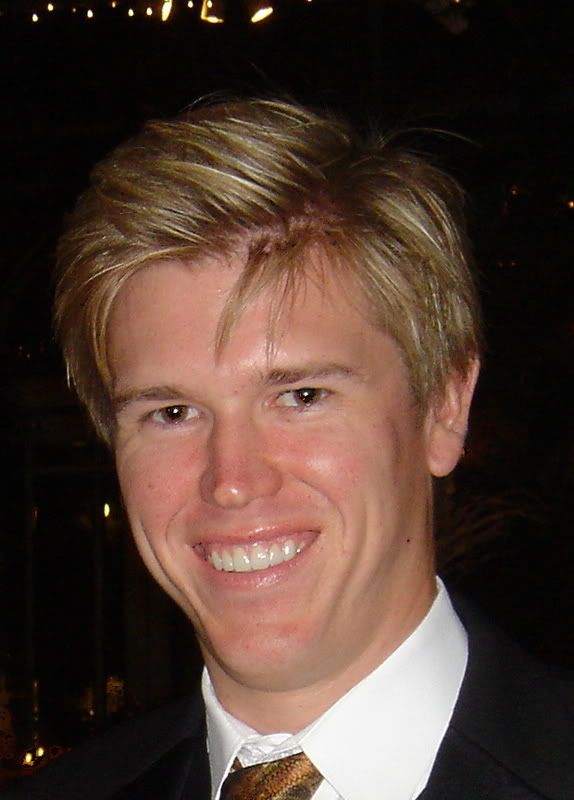 BJC: Who is your Jeremy Coon?
JC: This is lame, but I really have never had someone I've really wanted to beat in general. I'm very competitive, but it's always been temporary and in some narrowly defined field like a sport or game.
BJC: Did you think it would be awkward at the reunion because of the blog?
JC: Not really, bc aren't all reunions supposed to be awkward? I really had no idea what to expect, but I knew it couldn't be that bad. I never told you what I thought about doing when I first found out about this site. I was initially pissed bc I felt that you were trashing Mormons and Jared and it was pretty mean spirited. I was going to contact a well known documentarian that I had become friends with on the festival circuit and have him contact you about making a documentary about your goal to beat me. His company would pay for and own the doc, but you wouldn't know that I was the real investor and owner of the doc that you were making. I would avoid any contact to give an interview (much like Roger in Roger and Me) and the film's climax would be at the reunion where I would reveal that the film you had been making for two years was owned and controlled by me.
It would have been an interesting idea if it actually ended up working out (which would have been no small feat), but I thought it was too unrealistic and more importantly mean. I'd look like a complete jerk no matter how the film turned out, but again it would have been interesting experiment.
BJC: Oh, man, that would have been insane. The aloof "villain" of the movie actually being the movie's mastermind, and the joke being on the movie's supposed hero? I'm laughing just thinking about the interviews the director would have secretly done with you, me totally oblivious as you gleefully mock my every step. Maybe I wouldn't love it so much if that actually happened. I'm glad you eventually came around on the blog. Do you remember when you started to not be so pissed off about it?
JC: I think there was an entry where you talked about me being anti-Israel and being the cause of unrest in the Middle East. It was around that time that it became clear (at least to me) that this was tongue-in-check and was funny.
BJC: Don't forget, I also called you out for not doing more to help the victims of Katrina. Even though you're not pissed off about the blog anymore, do you wish it were lower down in the results for a Google search for your name? Last I checked, it was number two.
JC: It doesn't really bother me. It's always funny when I have a meeting or I've met or gone on a date with someone new - since it's common now to Google someone - and it's an interesting topic of conversation. They're always, "do you know there's this weird website about you..."
BJC: For a while, the first entry that came up with a search for "Jeremy Coon" was the article on Apple.com about how you used Final Cut Pro for Napoleon Dynamite. Do you still use Final Cut Pro?
JC: Yes, I definitely still use FCP. FCP is affordable and awesome. Oddly enough, I was actually using it today for a video I'm making for a class presentation. I'm planning on focusing more on producing so I'll be editing a lot less. As much as I love editing, it's just really hard work and when I'm editing, that's all I can focus on. When I'm producing, I can juggle a bunch of different things and have more of a life.
BJC: On IMDB, it says you were an editor for "Head Cheerleader, Dead Cheerleader" in 2000. Is that true?
JC: I went to a 6 week Avid editing training course in Portland, OR in 2000. It was an awesome school where you train and learn the editing system for the first 3 weeks and then the final 3 weeks you work with an independent filmmaker and actually edit their film. The directors usually didn't have enough money to edit the film so they got an edited movie for free and each of the students got to work on a real film and get their first credit. If I remember right, there were 6 people per session and the film was divided up among all of us in sections. My section was the first 20 mins.
You had no idea what film or even kind of film you'd be editing when you signed up. The session before us had Marc Forster's first film, but we were lucky enough to get Head Cheerleader, Dead Cheerleader. Despite the less than Oscarworthy film, I learned a ton about editing and working with a director at that school and it was a great experience.
BJC: I wrote an entry in which I proposed some cybersquats I could do, like Jeremycoonproductions.com. Not long after I wrote that entry, someone bought those domains. Was it you?
JC: Alright, I'll come clean and say it was me. I thought it would be funny to buy them and see if you were serious about getting the domains.
BJC: Did you ever secretly write a comment on Beat Jeremy Coon? There was one time I was pretty sure a comment was written by you, but I asked a few people what they thought, and they thought I was crazy.
JC: What comment was it? I can guarantee you that I never posted a comment on the site and was simply an observer.
BJC: I can't remember much about the comment, other than that it was mean, and it said something like "I'll probably regret writing this later." It was the regretting writing it later part that made me consider it might be you. Here's my last "was it you?" In the Wikipedia entry of Jeremy Coon, at one point it said something about "his classmate Rhys Southan is chronicling his efforts to beat Jeremy Coon on a blog" or something like that. And then later, I noticed someone had added "pathetic" in front of "efforts". Did you make that edit? Or was it a Jeremy Coon fan?
JC: Again, I have had nothing to do with my Wikipedia entry, but I am curious who made the edit. So anyone reading this, feel free to own up to it.
BJC: The night before the reunion, I was thinking of writing you a MySpace message to try to ease the tension. I went to your profile and I saw that you were online. I imagined that you saw that I was online too, and that we were in a MySpace stand-off, looking at each other's profiles with the "online" flashing, waiting to see who would make the first move. Then I chickened out and signed off. Were you a part of this virtual duel as well, or was it totally one-sided?
JC: Sorry, but I wasn't on the other end of the duel, despite being on Myspace. However, if we were making a movie about this, that would totally be a scene we'd have to throw in.
BJC: Artistic license would all but demand that. How was our climactic meeting at the reunion?
JC: It was a little strange at first, but once we started talking, it was fine.
BJC: After going to our reunion, do you think you were actually the one to beat there?
JC: I guess. It totally depends on someone's perspective, and everyone is different. I'd say yes mainly bc making films is higher profile and more interesting to most people than other jobs. I think a fair amount of people either saw the movie or somehow found out via the media or friends. I'm sure there's someone from our class that's made more money or done something better, but it's just not as widely known.
BJC: Will you go to Berkner's 20 year High School Reunion?
JC: When we were driving back from the reunion a few weeks ago, I said that I didn't think I'd be back for the 20th. The reunion was fun and all, and it was great seeing everyone and getting updates, but it just seemed a little forced and weird (as I assume all high school reunions are). My main complaint was that a number of the people I would have loved to reconnect with didn't show up. We'll see what my attitude is in another 10 years.
BJC: What did you think of Berknerites 10 years later? Had they accomplished what they wanted to accomplish? Were there any runners-up for beating you? I observed that a lot of people were fairly successful, but still not doing exactly what they wanted to be doing.
JC: The most surprising thing to me about the reunion was how apathetic I felt overall about it. Again, I really liked high school, so it wasn't like I had any revenge motive to show people what I made of myself or anything. I was happy to see a lot of people, but as I wrote earlier, a lot of the people I was most excited to see and catch up with weren't there. So that kind of bummed me out. Overall, I think our class did ok. There were a couple of people that seemed to be doing exceptionally well and a few doing exceptionally poor or lame, and everyone else was somewhere in the middle. Like you said, doing well, but not exactly fulfilling their dreams.
BJC: Do you ever watch Supernatural, starring our fellow Berknerite Jensen Ackles? I was skeptical of the show at first, but grew to love it.
JC: I've never watched a full episode. When it was first on, I checked out part of an episode and realized it's really not my kind of thing. Congrats to him for scoring the lead on a TV show, though.
BJC: At the reunion, you mentioned that you've temporarily quit the movie business to go back to BYU for your MBA. What made you decide to do that?
JC: In a few words, I was bored. I love LA and working as a producer, but after living there for over five years, I felt that I was being sucked in to the typical Hollywood cliche mindset and needed a change of pace. It's easy for the town to warp your sense of reality, and if you've got a lot of free time on your hands, it could be a bad thing. Also, I've wanted to get my MBA since I was a kid and I felt strongly that if I didn't get it now, I wasn't ever going to get it; and I think what I'll learn with the degree will really help me get to the next level in my producing career.
It just felt like the right thing to do and if it wasn't, I could always drop out of school and move back to LA. It's only an 18 month break at the most. I had a feeling that nothing was going to get greenlighted within the next year bc the budgets were bigger on the projects I wanted to do, which makes it a much longer process. I also didn't want to be hanging around not doing much like everyone else in LA, waiting for their film to get the go ahead. In light of recent events with the WGA strike (and the DGA and SAG strikes potentially to follow next summer), it might have been a really good call to go back to school.
BJC: I presume the Writer's Guild strike has little effect in Provo?
JC: Yeah, the picketing groups are really small. Seriously, assuming the strike goes on for a while, it makes me feel better being in school bc I know I'm not missing much.
BJC: Do you think the WGA writers are correct to strike?
JC: I think both sides are being childish about it, but ultimately I think the WGA overplayed their hand and it's going to come back and bite them. The WGA's tactics and attitude seem really uncooperative, but that may just be the reporting. I would have threatened more with a strike without actually striking. Not sure if that makes sense, but let's say someone has a hostage and then shoots the hostage. Once they shoot the hostage, they really don't have that much leverage in negotiating. To me actually striking is like shooting the hostage, bc it can't get any worse from there, and the studios are probably willing to wait it out. The writers have a valid complaint and should probably get more residuals, but I think the whole system needs to be revamped. My vote is that residuals should be paid only if the film is profitable and then they should get a bigger share, but I doubt anything like that will ever happen.
A lot of people have no idea how much it costs to make and release a film these days. It's crazy and it gets unnecessarily worse every year. I remember an interview I agreed to do on a local sports radio station in Dallas a few years ago and one of the guys was very interested in how much money I made off of ND. He was like "so the movie made about $45 mil and cost about $400K so you've got something like $44 mil, right? What's that like?"
This is an extreme example, but the guilds think the same way. They are only interested in grosses and not profits, which as films get more and more expensive to make it's getting less and less. Anyways, I could go on more, but back to your question, I think the writers are correct to strike, but I would have handled it a little different.
BJC: Do you ever feel trapped in by the mountains there? When I visited the campus, I kind of felt that at night. Otherwise, I found it extremely pleasant.
JC: I don't feel trapped bc of the mountains, because I like them. I do feel trapped bc of "The Bubble" they talk about here in Happy Valley. Provo has a very different speed of life and thought that I don't like. There's a lot of ignorance, like any college town. It's a tight race between Provo and College Station as the most ignorant. It's good to get a break and go up to Salt Lake City, which actually isn't that bad. It's no LA or NYC, but it's fairly metropolitan for being in the midwest.
BJC: It's too bad you're not actually allowed swim in The Great Salt Lake anymore. If it weren't so polluted, it could be the Dead Sea of the midwest. I was hoping to do a little floating on my trip to SLC before I found out the bad news. It is a good town, though. But Provo at least has that Malt Shoppe. Anyway, now that you're back at BYU, do you get a lot of glory for being one of BYU's most successful recent alums?
JC: A little here and there. Sometimes it's cool and other times it's lame and annoying. Whether you believe this or not, I'm usually fairly quiet about what I do. During MBA orientation two months ago, I had just met someone and was talking with them about the caliber of incoming class. He excitedly said, "Do you know that the producer of Napoleon Dynamite is supposedly one of the new students, too?" I said, "Yeah, but I heard he's a real jerk" and just had some fun with the conversation.
There's sometime really uncomfortable to me about people you've never met already having a preconceived notion of who you are. You just have to make sure that people are friends with you for the right reasons and not just what you can do for them or whatever. That's why I prefer people finding out that I produced ND after I get to know them at least for a bit so nothing like that can happen. Maybe I'm overly paranoid and silly, but oh well.
BJC: What do you know about your old roommate Mike getting kicked out of BYU? Do you have another side to the story?
JC: Glad you brought this up, because Mike's side of the story is way off. First of all, I had very little (if anything) to do with him getting kicked out of BYU. An ex-girlfriend of his reported him and my involvement was that I agreed if I was asked by the school about the situation that I would tell the truth. That was it. I was never asked, so I really had nothing to do with it. Mike was sharing a room with a mutual friend of ours in the apartment we rented. Mike was dating a girl that would spend the night every night and they would make out in his bed. Obviously this is really lame given that he was sharing a room with our friend who was 6 feet away. When we brought it up to him, he basically told us to screw off and he was going to do what he wanted. Mike was one of the worst roommates any of us ever had. He was messy, rude, and inconsiderate at the time. That said, I didn't care enough to get Mike kicked out of school back then, and I wish him the best now.
BJC: Another one of your classmates from BYU, Josh, said he was with you when you drove your car into a creek there. He said you both could have drowned, and when you got the car out, an older guy was trying to help, and got sludge in his face from the exhaust pipe while you were hitting the gas. When I visited BYU, Josh showed me where the creek used to be, which was then covered up. Were you sad to see that the site of such a pivotal moment for you was gone?
JC: For him to say that we could have drowned is totally ridiculous. At best there was maybe 1-2 feet of water in that creek, if that.
BJC: It did look pretty small.
JC: The story is after the accident, a large crowd had gathered (maybe 20 people) and we and some university police had called a tow truck to tow the car out of the creek. He got the car out of creek and I went to see if the car would start. It wouldn't, but the cop told me to step on the gas to clear the tailpipes, which I did. After that, I saw all of the cops and most of the crowd laughing and it was then that I noticed that I had sprayed the tow truck guy with mud and duck crap. I felt bad, but it's still funny. Had the situation been reversed and I'd been sprayed, it may not have been funny to me at the time, but it would be hilarious later on. I ended up tipping him like $50 and thanked him for his help.
It really wasn't that much of a pivotal moment for me. It's more of an amusing anecdote. The biggest lesson I learned was that there's a such thing as "black ice." I grew up in Texas my whole life and didn't know there was such a thing as ice that you can't really see, except in patches. I lost control going around a bend in the road on campus and the car just kept going straight. Anyways, it looks and smells much better to have the creek filled in now on campus, so I'm not sad.
BJC: In either high school or middle school, I seem to remember you dressing somewhat goth-ish, or at least in a lot of black. I didn't know you that well, and assumed you were a metal kid. Later, when I found out you were LDS and going to BYU, I was surprised, since the black overcoats didn't particularly fit the squeaky-clean LDS stereotype. Were you openly Mormon back then?
JC: I won't say I was ever gothic, but I did hang around with that kind of crowd a lot of the time bc they were fun and nice people and I dig the music. I was actively Mormon the whole time I was growing up, but it really didn't mean much to me at the time, and I never made a big deal about it. I was mainly Mormon then by default bc my family was Mormon. It wasn't until I was around 20 that being a Mormon became really important to me. I'm sure everyone goes through a similar thing growing up, be it religion or something else.
Also, there were only like 6 Mormons or so at Berkner and being the Bible Belt, Mormons are completely misunderstood due to ignorance. I can't remember which church did the whole Young Life thing, but I remember talking to someone from that church or another one like it where they regularly held "cult week" where the focused on "evil" religions. The religions they targeted as "cults" were Jewish, Muslim, Islam, Mormons, etc. It was basically every other church other than theirs, which now that I'm older seems so ridiculous, but at the time I was scared that I would be ostracized if people knew I was Mormon. Looking back it seems so stupid, but that's high school.
BJC: Did being LDS affect people's perception of you in L.A.?
JC: I guess on some level, but it's never been an issue and it's generally been very positive. Most people are curious, but have ridiculous misconceptions about Mormons that I'm happy to talk with them about and make sure they know the truth about us. Mormons are just normal folks trying to do what they think is right. For some reason, we're often confused with the Amish. The biggest deal is that I don't drink and people wonder why. Most assume if you don't drink, it's because you're an alcoholic and you've just come out of rehab.
My religion is just part of who I am. Granted it's a large part, but there's a lot of different aspects that make up someone's personality. Just bc someone's gay or Catholic doesn't mean you know everything about that person or can sum them up. There are a lot of different kinds of people who are Mormon, just like any group. People in LA have always been respectful, at least to my face. LA is a very accepting place believe it or not. It's so diverse that it kind of has to be that way.
BJC: Before Napoleon Dynamite, did you ever think of going the "Mormon Movie" route? You know, the Single's Ward, RM, God's Army type stuff.
JC: We specifically set out to avoid making a typical "Mormon Movie" because we didn't want to only target a small niche market. Singles Ward had just come out, and Jared and I were talking and both of us agreed that we did not want to do anything like that. I respect the fact that they helped create a new market, but I personally don't care much for the Mormon movies simply bc the quality of the films is pretty low generally speaking, and I don't like the way they portray Mormon culture. I would love to support and even make a Mormon film some day, but so far there hasn't been a film that's good enough.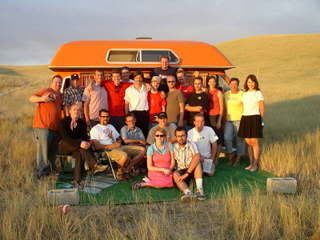 BJC: What is your favorite Mormon movie?
JC: Wow, that's a hard one. I'm inclined to say none, but that would be boring. Of the bunch, I thought that Charly and Pride and Prejudice (the Mormon update) were the most watchable of the bunch.
BJC: For people who know a little about Mormonism, Napoleon Dynamite seemed like a secret Mormon movie. The characters were all in Idaho, and no one said a swear word or did anything especially heretical. For those interested in LDS culture, the impression was that these characters were Mormon, even though no one ever mentioned anything about religion. Since all the filmmakers were LDS, that would seem to make sense. And then you produced American Fork, which I haven't seen yet, but is named after a town in Utah. Will your future projects be vaguely LDS like this, not LDS at all, or will some even be more overtly LDS-themed?
JC: Obviously the characters in ND are influenced by Mormon traits simply because they are largely based on various people that Jared knew growing up. He lived for a number of years in Preston, ID which is a predominately Mormon community and you write what you know. I personally believe that most of the characters in ND are Mormon to some degree, but it's not really pertinent to the story which is why it's not blatantly stated. We're not shying away or hiding our religion just to make it more commercial. It would seem heavy handed and unnecessary to make a bigger issue of the characters' religion and would negatively impact the film as a whole.
Most films don't focus on the religion of their characters unless it's important to the story. Fiddler on the Roof has a bunch of Jewish characters, but they don't constantly remind us that they're Jewish with inside jokes. If someone asked me if I wanted to see a Jewish play, I'd be inclined to say no, bc I'm not Jewish. It's unfortunate that we categorize media this way, bc you might mistakenly pass over something worthwhile. Fiddler's themes are universal and even if you don't know much about the Jewish faith, you can still watch and enjoy it. That's my goal with the films I like to make. So my answer is I want to make whatever I feel is the best film, but I'm not purposely choosing one based on any agenda.
BJC: Oh, here's something I've always wondered about. Uncle Rico wears a crucifix in much of Napoleon Dynamite, which isn't something Mormons wear. Was this to subtly distance him from the other subtly LDS characters in the movie? My theory was he was kind of the "bad" character in the movie - not evil or anything, just relatively obsessed with breasts - and so Hess wanted to make sure people in-the-know would see he wasn't supposed to be LDS. Any truth to that?
JC: Uncle Rico is my favorite character in the film, so I have a hard time seeing him as the "bad" guy. I never really thought much about that. I don't think Jared meant the crucifix as a means of purposely separating Rico as being non-Mormon. Now that you mention it, I could see how you could come to that conclusion, but it wasn't anything intentional on our part to imply that. Rico just seemed like the kind of guy who would wear one.
BJC: So far, the three features you've produced have been fairly family-friendly (Napoleon Dynamite was PG, and I'm guessing that Sasquatch and American Fork would be too), but the movies you listed as your favorites are more risque. Could you see yourself ever producing an R-rated movie?
JC: Yeah, I could totally see myself making an R film if it's a good film and the content is warranted. I really don't think about the ratings much. My rule is if I wouldn't be embarrassed to have my name on the film and can I watch it with my parents, then it's something I can do, which leaves a lot of room. American Fork is much more adult and dramatic than either ND or Sasquatch. I'd love to make a horror film someday.
BJC: You mentioned that an initial impression you had of the blog was that I was bashing Mormonism and Jared Hess. I definitely never intended to bash Mormonism - I just found it interesting and was probably over-obsessing about it. But I did write an entry jokingly calling out Jared Hess for Nacho Libre, which at that point was called "The Untitled Jack Black Project." This was during the peak of my research into LDS beliefs, and from what I was reading, it seemed that of all the major religions in the world, LDS Church founder Joseph Smith especially opposed Catholicism.
So when I saw that Jared Hess' new movie was a light comedy taking place in the world of priests and nuns, I felt obligated to express my supposed outrage that he was betraying his beliefs and selling out to Catholic Hollywood, instead of making a movie with LDS characters. Of course the rant was exaggerated and probably ill-informed. But is it at least potentially somewhat controversial for an LDS filmmaker to make a movie where the heroes are Catholics, even if religion is just a backdrop for the movie?
JC: At the time of the entry, I wasn't sure if you were trying to be funny or were actually insane and mean-spirited. Sarcasm doesn't always come across well written. I realized later on that you were just having fun, but at the time it felt serious, which was partially my fault.
I don't remember ever reading anywhere that Joseph Smith was especially opposed to Catholicism. The Mormon Church has never had anything other than mutual respect for other religions in my experiences, despite that respect sometimes not being reciprocated back to us. As far as religions, my feeling is as long as someone believes in something and is trying to do what they think is good, that's great. There's good and bad people in every organization and just bc someone belongs to a particular church doesn't make them good or bad.
I don't think it's controversial for an LDS filmmaker to use Catholic characters any more than it would be for Spielberg to use non-Jewish characters. Filmmakers tell stories and any film that has an agenda is usually bad. It's the same thing about us not not making a big deal about the characters likely Mormon religion in ND. It's not that important to the film. In Nacho, him being Catholic is obviously important since he's a priest and sets the backdrop, but past that it's not a big deal.
BJC: Why hasn't Jared Hess directed anything since Nacho Libre?
JC: Nacho was only like a year and a half ago so it's not like that much time has gone by. Jared could probably direct as many movies as he wants, so it's his decision not to direct more, but I can't imagine most directors doing a film much more often than every 2-3 years. There are some directors that can just jump from project to project quickly and not really be that invested in them (Brett Ratner springs to mind). Jared needs to be very personally invested in each film and only wants to work on films he really believes in. I can't imagine him directing something he didn't at least play a large role in writing. I really respect that about him and it also means he's probably going to have some time between films like plenty of other writer/directors. Jared and his wife also have 2 kids and I know he's enjoying the down time with them and playing Halo 3.
BJC: How's your Napoleon Dynamite impression?
JC: Not any better than anyone else, but it's not hard to attempt to do one.
BJC: How does one produce a movie for the first time, with a first-time director and a cast of unknowns?
JC: This could either be a really short answer or a really long one. I'll go with brevity which is to just make your movie any way you can. We started making shorts which later prepared us to do a feature. There are really no rules. I would just recommend building a solid team (hopefully of friends) and not just sit around waiting for the film to happen. You need to be proactive or nothing will ever actually get done. That'll mean cutting corners and making compromises, but even big budget films have to deal with that. Some friends of mine last summer went down to Arizona and Mexico with a bare bones crew and shot a good little feature for like $15K and you have to respect that drive and determination.
BJC: What happens to people who produce a movie before getting a decent amount of short film experience? Is that sheer folly?
JC: I wouldn't recommend it, but it doesn't mean it can't work out. It's likely that someone will get in over their head jumping straight into making a feature. I'd much rather make my mistakes on a small film that doesn't really matter. Mistakes on a feature are much more expensive and noticeable. You have to start small and train for anything. If you look at it as a marathon, most people wouldn't go from nothing to running a marathon the next day. You'd start out running a few miles and build up from there by training. I think filmmaking is the same thing.
BJC: To get a break in the movie industry, does it help to be entirely single-minded with no distractions?
JC: I think it's unhealthy to be completely single-minded on anything, but you do need to be focused and work smart. Everyone needs to have balance in their life or you'll go crazy.
BJC: Trey Parker said that in his early 20s, he had a deadline for himself that if he weren't successful in the entertainment business by the time he was 28, he would give up and do something more practical with his life. He ended up beating his deadline by a year with Southpark. If I had his same deadline, however, I'd have given up seven months ago. Is there a point at which someone should abandon their filmmaking dreams?
JC: It's odd that you mention a deadline, bc I did basically the same thing and I think that's an important thing to do in any profession. I always thought of a successful career in film as kind of a dream (it's only slightly more realistic than a rockstar or professional sports player), bc so much is subject to luck and timing combined with hard work, and at the end of the day there's no real guarantee of fruits from those labors. When I finished my undergrad degree, I gave myself 2 years to make it in the entertainment industry. If I wasn't happy with where I was after that, I was going to go back to school and get my MBA. Those 2 years were spent balls to the wall making Napoleon happen. I also wanted to have a film at Sundance and sell it before I was 25 and we sold ND like a week before my 25th birthday.
Anyways, back to your question. I don't think anyone should give up entirely on their filmmaking dreams if they feel that they have the talent and are prepared to work hard. They just need to be smart and realistic about it. By that, I mean have a day job or some means of supporting themselves financially and also have contingency plans in place should their dreams not come true. Even though I think luck is a big part of anyone's success, that luck can only be capitalized upon with hard work so that you're prepared to make the most of it. My feeling is if someone works long and hard enough, eventually they will get a break of some kind.
BJC: The writer and the director get most of the glory for a completed movie. Do producers get less credit than they deserve? Is this why you also edited Napoleon and Sasquatch?
JC: I started out as an editor in school and then started producing out of necessity on short films. Editing was my first love and producing came second. My initial goal with ND was at the very least I would have a solid feature credit if I hired myself as the editor and I could save money doing it. Again, I did it more out of necessity. As for producer's getting credit, it totally depends on the situation. At festivals, the directors are king. The general public cares mostly about the actors. Producers get a lot of credit in the industry and with awards. When a film wins best picture, it's the producer that gets the award. There's a wide range of what a producer does, so some get less credit than they deserve, but most probably get more than they deserve.
BJC: What's your favorite of the feature films you've produced? Of course I know it's impossible to choose. For you to answer this would be like the end of Sophie's Choice where she has to pick which of her kids doesn't die.
JC: Napoleon is always going to be very special to me bc I have so many memories from it and it was my first. I spent two years of my life making it and working the hardest I ever had on anything and loved it. There was something so cool about the purity of the experience that I doubt any of us on the film will ever experience (at least at that level) again. It was just a bunch of college buddies up in Idaho having fun, working hard, and trying to make a good film. There was none of the typical Hollywood egos or attitude on the shoot and it felt like a total family. It was a new and innocent experience and there were no expectations. Now anything we do is compared to Napoleon and expectations can be totally unrealistic.
BJC: I always thought everyone making Napoleon Dynamite must have had a lot of fun. What was the peak of your happiness during the Napoleon Dynamite process - some time during filming, when people were seeing it at Sundance, when you sold it, when it was a smash hit in theaters, or when the action figures came out?
JC: The highlight of the experience for me is easily the first screening at Sundance and when we sold it the following day. I was post supervising the film and getting it ready to show and doing all of the producer stuff like dealing with sales agents and other festival stuff so the few months before the fest were especially chaotic. A lot of people had invested a lot of time and effort into the film, but you never know how people are going to react to it until you show it to a real audience and you wonder if all this money and effort is in vain.
We had spent forever on the Napoleon dance sequence at the end including using different songs and many edits. It was one of the last things we finished and had no idea if it was going to be good enough for the climax of the film. At the first screening at Sundance, the audience went crazy after the dance. If I had to pinpoint a moment it would be that and Jared turning to me and saying "We did it." The reaction at our screenings were better than our wildest expectations and to be able to share it will some of my best friends - that helped make it is a great feeling.
BJC: Somewhere on MySpace a while ago, you said something about Borat being the funniest movie you'd ever seen. Not Napoleon Dynamite?
JC: Any filmmaker, be it a producer, director, etc, that would list any of their own films as their favorite films of all time is a total douchebag. Don't get me wrong. I love Napoleon and am very proud of it as I am about all the films I've worked on, but it just seems wrong to personally rank a film that you were intimately involved in making among the best films ever. I can't imagine Coppola ranking The Godfather or Apocalypse Now as his favorite films to personally watch even though those films are amazing. It's like a parent trying to give an objective evaluation of their child.
BJC: At SXSW, I saw "Eagle Vs. Shark", which seemed to me like a fairly direct rip-off of Napoleon Dynamite, at least with the style and mannerisms of the characters. Someone asked the director if he'd seen Napoleon Dynamite, and he admitted he had, but denied any influence. He said something fishy about his movie being what life was like in New Zealand. Are there any films you've seen that seem to have been at least partially influenced by Napoleon Dynamite (including any other films you've produced)?
JC: What's weird is that I was officially given the script for Eagle vs. Shark to possibly help produce it like 2 or 3 years ago or so. I read it and liked it, but it felt very close to ND and I didn't want to follow up with that as my second film. I've heard the director say he'd never even seen ND so it couldn't have influenced him. Ultimately it doesn't really matter. Nothing is truly original anymore.
As far as films that were influenced by ND, I guess all of the films I've done will have similar elements bc they've been made by similar people that worked on ND and all of us have similar senses of humor. So I don't know if I'd say that they were influenced as much as maybe representative of our style.
Films outside our circle of friends, I'd have to say Eagle vs. Shark (whether intentional or not) and Hot Rod have been two of the clearest examples of films that seem to have heavy ND influences.
BJC: I saw the ads for Hot Rod. That movie apparently borrowed Napoleon Dynamite's bike hitting the crotch scene shot for shot. Even nothing being original anymore can't explain that. What is happening with The Sasquatch Dumpling Gang and American Fork?
JC: The title of SDG has been changed to The Sasquatch Gang and it's being released theatrically on Nov 30th in 10 cities across the country (ie LA, NYC, Dallas, SLC, etc). I think it's actually opening on Dec 7th in NYC last I heard, but everywhere else on Nov 30th. Depending on how it performs, it'll expand from there. Might as well get a plug in, but people can check out www.thesasquatchgang.com for the latest updates.
American Fork is doing really well on the festival circuit. We just won Best in Show, Best Actor, and screenplay at the Bend Film Festival and we're playing the AFI Film Festival the first week in Nov in LA. We're talking to a few distributors that are interested and just trying to hammer out a deal we're happy with, so hopefully we'll be able to get the film out to audiences sometime with in the next year.
BJC: Now for the real reason for this interview. Did I beat you?
JC: The race isn't over, so is it really fair to call a winner?
BJC: No, definitely not.
JC: You have a long time girlfriend currently and I don't, so I'm willing to concede on that for the moment. We'll just have to compare stats at our 20th reunion and take a vote.
BJC: Two years sure passes quickly, doesn't it?
JC: Yeah, it does. Hopefully grad school will go just as quick.
BJC: Is there anything you wish you had done differently during this time?
JC: Not really. I really like all the films I've done and they have been great experiences and provided a lot of special opportunities for me. As long as I'm taking risks and not getting too comfortable, I'm pretty happy.
BJC: What should I have done differently in my quest to beat you?
JC: I have no idea. I can't even think of a smart ass answer to this. I guess I'd recommend changing what your definition of beating me was. By that I mean, focusing on areas that I don't generally do like writing, directing, etc. It would be easier to beat me in an area that I have limited or no success in and forge your own path.
BJC: Did you ever think for one second that I might accomplish something close to editing and producing a hit feature film in the time I had?
JC: It was totally possible. 2 years is feasible honestly if you're starting from nothing, but I can't imagine anyone doing a film well in a much shorter period of time. I'd say 6-9 months to write the script and then 12-15 months to get it set up and physically made. It could take less time, but it would likely involve cutting corners, so the film wouldn't be as good as it could be. Once we hit less than a year, I felt it was going to be significantly more difficult for you.
BJC: What are some things I could have done that you would have conceded counted as beating you?
JC: Dude, you're not making this easy, are you? If you had found the cure for cancer and/or AIDS, I would totally admit defeat. Short of that, there's not much else. I did help make a really funny movie, but it would only be a close second to saving the lives of thousands or even millions of people :).
BJC: Will we ever work together on a project one day?
JC: Sure. I don't have any doubt that you're talented, creative, and original. To this day, I've never seen anyone else wear half a mustache. Seriously, if I responded to a certain project and it makes good sense for us to work together, it could totally happen one day.
BJC: Any Oscar predictions (besides our future project together), or at least movies you think deserve to win this year?
JC: I swear every year gets worse than the year before. I really liked Michael Clayton and Eastern Promises, but those are the only Oscarworthy movies I've seen so far. American Gangster was decent, but I have a hard time believing that's going to get nominated for best picture. There's a bunch of films I still need to see. I'm dying to see No Country for Old Men and I still need to see Into the Wild. Overall, I think it's going to be a weak year again for the Academy, but I'm keeping my fingers crossed for the Coen brothers.
BJC: I think you'll find that the finger crossing paid off on No Country. What did I forget to ask about?
JC: Based on how many questions I've answered, I hope we haven't forgotten to cover anything. Wait... my blood type is O negative and my favorite color is orange. Now we've covered everything.
BJC: I'm O negative too. We give and we give, and what do we receive? Zilch! Welp. I guess this it. Any last words of wisdom?
JC: I'll just close with my favorite quote. It's on my myspace page. "Don't mistake lack of talent for genius." I love this quote as it applies to the entertainment industry, bc so often when people don't understand something, it becomes an Emperor's New Clothes kind of thing. Hollywood often exemplifies crap only bc some people are too scared to voice their opinion that they think something sucks.
BJC: Thanks, Jeremy!
JC: Peace.
Post Script: Well there you have it. No more Beat Jeremy Coon. Maybe I'll come back to it in eight years to prepare myself for the next reunion, but for now I have another blog, I (Heart) Not You. If you ever wondered what it's like to reside in the New York City area, this is the blog for you. Otherwise, I still update Idea Province sometimes. But hopefully I'll have something real to show for myself one day.