The first few days of Sundance were torture. I just wanted to snap my fingers and have it all be over. This was because I was staying in Salt Lake City without a car (with Michelle, someone I met a few months ago on CouchSurfing.com), and every day had to worry how I was going to find a ride there, and a ride back. It looked like, at best, I could make all of my volunteer shifts and see movies while I usher, but not do anything beyond that.
I hit absolute rock bottom after I missed all my potential rides one day (I was waiting to go with Michelle, who ended up deciding not to go) and had to borrow Michelle's car to make it to my shift on time. Because I am on a "fixing my vision naturally" kick, I didn't bring my glasses to this trip. Even though nature hasn't fixed anything yet. By the time I got to the Park City area, the sun had set, and the lingering light wasn't making promises. I thought about how hard it was going to be to drive on the icy roads in the dark on the way back, without a driver's license to guide me, and I almost gave up and returned while I could still somewhat see.
I didn't, though. I did my shift and told my manager my plight. He said I could sleep on the couch in his Park City condo (most full time volunteers get to stay in a condo in Park City) for the rest of the festival. Fantastic news, except that I still needed to get Michelle her car back by the next morning. Since my shift ended so late (2 a.m.) and I wanted to minimize my imposition on my new hosts as much as possible, I decided to drive back that night instead of spending the night in the condo and waking up super early.
When I got to the car, I remembered some of the car's problems: no heat, no interior lights, and no window defroster. After scraping all the windows off as best as I could, they were still foggyish. With my natural vision, unfamiliarity of the terrain and potentially icy roads on top of it, driving conditions weren't totally ideal. But I tried anyway. Even though I knew there was a reasonable chance I might die.
In a few minutes, I was on a strange, narrow road crawling up a mountain, only able to see a few feet in front of me. I'm not prone to panic attacks, but I almost had one. I turned around, found my old parking spot, and sat in the car, waiting for my vision to fix itself. After half an hour, I realized my toes (protected only by wet Chucks) were about to freeze off. I ran to the Marriot Hotel--Sundance headquarters--and went to the bathroom. I figured it was already too late to call my condo friends, and I'd never be able to find the condo anyway, so I was going to sleep in the bathroom until it was bright enough to drive. Since everyone in the hotel at this point had their own hotel room, I didn't think I'd have too many interruptions.
Messing up that plan was that the toilet had no top lid. So the only back support was a cylindrical metal pole that jutted painfully into my back. I couldn't really sleep leaning forward, and I didn't want to put a bunch of paper towels on the floor and sleep on those, because it would look really bad if someone eventually did come in. So I gave up on the bathroom. For the most part.
I went to the second floor lobby and found a chair that was mostly out of view of the first floor lobby. I grabbed a newspaper and sat with it in my lap, so I could open my eyes and pretend to read it whenever it sounded like someone was coming. This was actually quite a bit. So I got a lot of newspaper reading done, and very little resting.
This got me thinking about how hard my life is sometimes, and how it's usually due to my asceticism. If other people were in this situation, how would they have handled it? Not by almost sleeping on the floor of a bathroom, I'm guessing. Some people might have woken up the condo people and found their way there. Others might even have bought a hotel room for a night. And I bet there's other options my mind can't even conceive of.
I considered falling asleep in the chair and not caring what anyone else thought, but for some reason, I couldn't manage the courage for this. Every noise I heard, i was back to the paper. Every once in a while, I'd get nostalgic for the relative peace of the bathroom, and try that again, before remembering why I hated trying to sleep on that toilet. So I basically just sat in this hotel, watching time pass until about 6 a.m.
A call from Nicole informed me that the sun wasn't coming out until 7:45 a.m. I could have waited another half hour. But not another hour and a half. Being away from the car for so long gave me my driving confidence back. I got a Park City and Salt Lake City map from the lobby downstairs, something Nicole thought they'd probably have, and ran back to the car.
Thanks to the maps, I found the highway back to Salt Lake City. My vision hadn't totally fixed itself while I waited in the hotel, but I drove slowly, stuck to the middle lane and could see the taillights of cars in front of me, headlights of cars behind me, and the lane stripes right in front of me. This was all tolerable enough until a car coming from the other direction on the highway spun out on some ice, and flew into my side of the highway, sliding right in front of me. I had to hit my brakes, and just as this other car flew into the gulch to my right, I fishtailed out of control for what seemed like an hour or so (probably more like a few seconds), and then I spun-out too. It was weird facing the headlights of cars that were supposed to be behind me, imagining their horrified faces.
When I finally got the car to stop, I wasn't in a gulch, and I wasn't even far out of my lane. And nobody behind me had crashed. I pulled onto the shoulder and gave myself a minute to reflect on what had just transpired. I saw a police car not too far ahead, in the gulch, tending to another icey road victim. Hanging out on the shoulder of what was apparently the most danger-ridden spot on I-80 didn't seem like the best idea. So with my frazzled nerves, I pressed on. I drove so slowly the rest of the way, the sun had totally risen by the time I got Michelle's car back to her.
The next day I heard that there'd been a fatality on that road the night before. I wondered if it was me, but I pinched myself, and I was still alive.

The rest of Sundance, I was at Park City, and it seemed like heaven. I saw 30 movies, probably more movies than I saw all of last year, and I remembered why I love movies so much. A few of them were unfathomable junk, true, but even those were inspiring in a way. At most I made one "contacts," but contacts are dumb anyway. It's not who you know, it's what you know. And I know that I want to make movies.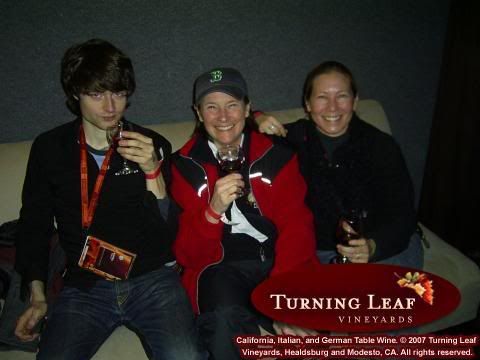 This is the one photo I got of myself at Sundance. The woman next to me owns a toxic waste transportation company. Not sure what the other woman does. I heard I could get a free haircut in downtown Park City, but damn it, I never found the place.

Here's a list of the movies I saw at Sundance, from best to worst:
Hounddog: A lot of people (most of whom admit that they haven't seen it) have a problem with the rape scene in Hounddog, and think the movie should be boycotted. Then when people actually do see the movie, they don't think the rape scene is bad, but instead think it's filled with terrible Southern movie cliches, and should be boycotted for that. Hey, I got on Siskel & Ebert for complaining about cliches in movies about the South, but I thought this movie was brilliant in every way. At one point I almost teared up because the story did something so unexpected, I don't think I've ever seen anything like it before.
After the main character is raped, I was thinking about how in most movies, things get really bad for the main character, so they can turn everything around for a big triumph at the end. But that even if Hounddog somehow managed some kind of quasi happy ending, it could never really be happy, because the main character would always have been raped, and nothing could ever fix that. Then that was the very issue the movie addressed, and it actually managed to show some hope at the end. Maybe there have been a lot of movies like this that came out first, but that doesn't change how good Hounddog is.
Protagonist: This is a documentary I should have made. It tells the life stories of four very different people whose lives are all linked by a common theme: they all tried to change something about themselves that they couldn't change, because the problem trait in question was an immutable part of them.
One character was a wimpy kid who tried to become tough by joining a really violent martial arts class. Another was a gay man who suppressed his sexual desires to become a married evangelical missionary with a kid. Another was a peace-loving German leftist with a Nazi father and Jewish mother who became a terrorist to aid the cause of the Palestinians and was responsible for the death of three people. And the last was a guy who was a weak kid beat up by his father for all of his childhood until he nearly stabbed his father to death and become an "ubermensch" bank robber with power over everyone. All attempts at change failed, because they were fighting their true natures. These stories, all flawlessly told, are intercut with puppets enacting segments of plays by Euripides, showing the tragedies that strike man when he tries to wrest control of his fate from the Gods.
The theme here is the exact same as the theme in the script I'm writing. I approached the director after the Q&A to be like, "Hey, I'm writing a script with the same theme as your documentary!" But then the guy in front of me told her that exact same thing! So I left.
Manda Bala (Send a Bullet): If you thought your country was bad, you should see Brazil! This is the winner of the main documentary competition at Sundance. The reason I saw it is that it seemed like it could be inspiring for the next script I'm planning on writing after the one I'm doing now. And it was. So much so that I would want to develop my next script with this director. I talked to him about this after the screening, and he (who seemed very scared during our conversation) said to contact him through mandabala.com. Turns out, his email address wasn't on the site, but his producer's was, so I contacted that guy. I figured I wouldn't hear anything about it, but his producer emailed me back today, curious about my script idea. So I guess that is a contact of sorts.
Anyway, this movie is about how thoroughly corrupt and dangerous Sao Paulo in Brazil is. The main characters in the movie are: a rich owner of a frog farm who knows some other frog farm owners involved in a government money laundering scheme; a rich woman who was kidnapped and had her ears cut off during the bargaining portion of the ransom request; the kidnapping division of the police force; a rich guy who has bullet proofed all of his cars, takes classes about escaping kidnappers on the road, and can't wait until he can plant microchips under his skin to be kept track of; a plastic surgeon who uses rib cartilage to fix the ears of all the rich people who have their ears cut off; a kidnapper who has killed so many people he can't remember the first; poor kids who pretend to cut each others ears off; and a politician who stole billions from a government program that was supposed to aid the poor in the Amazon. The subject material is disturbing, but with the wall-to-wall music and energetic editing, watching it is an elating experience.
Sweet Mud: This movie won the jury prize for international cinema at Sundance. I loved it the second it started because it instantly creates a world I'd never before seen. It takes place on a kibbutz in Israel in the 70s, a socialist experiment in communal living, where people didn't particularly raise their own kids, unless they happened to be assigned baby duty. The main conflict is that despite everyone's socialist idealism, nobody likes Miri--a woman who has become mentally unstable since the mysterious death of her husband--leaving her 12-year-old son (Dvir, the main character) to take care of her.
Miri's charming, older Swiss boyfriend Stephan comes to visit, after the kibbutz votes to allow it ("He may be a gentile, but he is the Swiss Judo champion," one advocate offers) giving Dvir a father figure and Miri some joy. But Miri sinks into a deep depression after the kibbutz kicks Stephan out early. Besides a romance subplot between Dvir and a girl from Paris, the movie gets pretty dark. But as Roger Ebert says, good movies are never depressing. Except maybe Boys Don't Cry. That movie is depressing as hell.
Chicago 10 - Chicago 10 is one of the best historical documentaries I've seen. It's about the demonstration against the 1968 Democratic National Convention, and the trial of its supposed leaders (most famously, Abby Hoffman). You know you're awesome when one of the witnesses at your trial is Allen Ginsburg. Because there were no cameras in the courtroom, the movie uses lively animation to bring the court transcripts to life. The rest of the story is told with archival footage, and absolutely no narrator.
The people in this movie are activist geniuses, a species of person that no longer exists, because all the clever iconoclasts (like Steven Colbert) have left the repetitive chants of the picket lines for more creative outlets like Comedy Central and The Onion. The famous activists of today (Cindy Sheehan et al) are humorless scolds with nothing original to say (how many times do we need to hear Bush called "Monkey boy"?) who make me want to like the war in Iraq. Chicago 10 harkens back to a time when activism seemed cool and meaningful. "Groovy, man!" (a phrase from back then)

No End in Sight: I don't really want to like the war in Iraq, but if I did, watching this movie would make it impossible. This documentary thoroughly and intelligently dissects what went wrong with Iraq after Saddam Hussein was ousted from power. What's refreshing about the movie, besides how well it lays out the facts, is that it doesn't seek to argue that the war was inherently wrong from the very beginning (even though the filmmakers no doubt believe that to be true). Instead, it shows all the mistakes that were made along the way, and how they could have been prevented. Iraq is unquestionably worse now than it was under Saddam. In fact, it basically looks unsalvageable. But at least, if you watch this movie, you'll have the satisfaction of knowing why.
Once: I had absolutely no interest in seeing this movie, but I was an usher during it, and I was surprised by how much I liked it. It's about an Irish street musician who meets a Czech immigrant. The make music together and share a very muted quasi-romance. Spending time with these characters is pleasant, and the music is nice too.
Pop Foul: This was the best short film I saw, but it wasn't one of the short film winners. It was directed by a dude named Moon Molson. Weird name, but great movie! On the way back from an ill-fated baseball game, Lavonte sees his dad get beat up by a neighborhood thug, without attempting to defend himself. His dad makes Lavonte lie for him, and this leads to Lavonte's eventual leap into violence. The dialogue and acting are exceptional.
Hot House: A documentary that looks at the conflict between Israel and the Palestinians solely in the context of an Israeli prison for Palestinian terrorists. What's interesting about this movie is that both sides come out looking pretty good. The prison conditions seem to be decent. They are clean, have a reasonable amount of freedom of movement, zero violence, televisions, education, and prisoners even get to stay in cells with people who have the same political affiliation as them. (The director was filming during the Palestinian elections, and the Fatah cell seemed pretty deflated after the elections). One Palestinian prisoner complains that they aren't allowed to have cell phones, whereas Jewish prisoners elsewhere are, and a prison worker points out that a prisoner recently used a cell phone to set up a bombing of a bus in Jerusalem. During the Q&A, one guy told director Shimon Dotan, "I can't believe they get to watch Oprah!" And the director, an Israeli with a heavy accent, said, "Well, you'll just have to accept my testimony." "No, I believe you..." the guy clarified.
Like the terrorist sympathizers in Spielberg's Munich, the many of the Palestinians here come across as intelligent, educated, reasonable people, despite the violence they've supported or committed. Not all of them. One of the prisoners, a teenager with a 6-year sentence for an attempted suicide bombing, can't wait to get out so he can "kill Jews." One of his cellmates wonders if his time in prison might inspire him to educate himself and do something better with his life. Another man says he's eager to have kids so he can strap bombs on them himself. Other prisoners hope he changes his mind when he actually has kids. A female prisoner smiles gleefully while recalling how she drove a suicide bomber to a Sbarro's Pizza. The bomber killed mostly mothers and children, and when the director asks if she knows how many children died, she guesses three. Eight, he informs her. Eight, she repeats, smiling.
Most of the Palestinians, however, don't seem to relish in violence. One of them, who was arrested a long time ago for a law that no longer exists (something about belonging to the wrong political party) is downright peaceful. Like many of the prisoners, he doesn't think that all Israelis must die, just that everyone involved is in a tough spot.
The description of the movie makes it sound like the prisons are a breeding ground for the next wave of terrorists, but that's not what I got out of the movie. It almost seems like the prisons are a good thing for the prisoners, giving them access to an education they wouldn't otherwise have (one reads from his paper on Rousseau and the history of France, and they all have to teach themselves Hebrew to use the library), and a chance to reflect on the Israel/Palestine quagmire. Perhaps the plan for peace will originate in confinement.

Chapter 27: Jared Leto gives his best performance since Jordan Catalano in this story about John Lennon's assassin. It's a simple movie, taking place over the three days Mark David Chapman hung out Lennon's castle in New York, trying to kill him. Not much happens, so the movie focuses on Chapman's state of mind. Unfortunately, writer/director J.P. Schaefer stays true to the original story, instead of letting Lennon live in the film, thus resurrecting him in real life as well.
The Substitute: An Italian short film about a substitute teacher who rewards the students for going totally out of control. It actually made me wish I was Italian. Trouble was, I was ushering for this one, so I was in the back with my "natural eyesight," which wouldn't let me read the subtitles. So I had no idea what anybody was saying. Maybe I'll watch this one again off I-Tunes.
King of California: This was my back-up when I couldn't get into Grace is Gone the first time. I didn't think Evan Rachel Wood was that great as the self-raised daughter of a wild-eyed man recently released from a mental home who drags her on a search for ancient Spanish gold (Michael Douglas), and that put me off at first, but after a while I got so into this movie, that by the end I was crying. Eventually I did see Grace is Gone, and even though it had more serious overtones, I found King of California to be far more moving, and more insightful about father/daughter relationships.

Rocket Science: People loved this freakin' movie. Most people who saw it deemed it their favorite of the festival. And I can see why. It's very smartly written, the characters are colorful yet realistic, and it has a good story. But for some reason, I couldn't quite connect with it. It's a comedy, but I didn't laugh once. Instead, I objectively "appreciated" the humor. On the upside, I found the lead actor for my movie. You better not go anywhere, Nicholas D'Agosto. You're mine.
The Savages: A "mature" movie about "adult" things. Not sex. That's juvenile. I mean taking care of an ailing parent. You can't really go wrong with Phillip Seymore Hoffman and Laura Linney, and they star in this one. This is one of those mainstream indie films that walks the line between humor and drama, giving it an "Oscar-Caliber" type feel, even though it's not as exciting as something like The Departed. But hey, if Little Miss Sunshine can be nominated, why not The Savages?
La Misma Luna (The Same Moon): I might have ranked this one higher, except it suffered the same problem as The Substitute: it was in a foreign language, and I was ushering in the back without glasses to read the subtitles. Nevertheless, nothing crosses the language barrier more effectively than a son looking for his mother. And it has one of the best crowd-pleasing closing images I've seen (albeit blurrily) in a movie.
Interview: This year's indie film that takes place in a closed environment with mostly two people. Luckily, it's more in the vein of Tape than My Dinner with Andre. A political journalist (Steve Buscemi) has to slum it by giving up the government corruption beat to interview a Paris Hilton type (Sienna Miller), who is more intelligent than he expects. A well-written battle of wits ensues. What I didn't like about this movie was that the Buscemi character is an obnoxious jerk. Luckily, the movie realizes this, and treats his defeat at Miller's hands as a triumph.
Three Comrades: This is sort of a cheap looking documentary, and it's sloppy in parts, but the subject material is so gripping that it overcomes all that. It follows three friends in Chechnya who like to drive around, listen to Western rock, film stuff with their camcorders, and look forward to a life full of raising families, working for TV, and chilling out. That is, until the fall of Communism, when Chechnya gets its own leader, who pisses off Russia with his pro-independence rhetoric, and Russia wages a devastating war on the country. Filming stuff during the war isn't much appreciated, and neither is being Chechnyan in Russia. Two of the friends are murdered while filming, leaving behind wives and children, and one is falsely accused of terrorism and thrown in jail for a long time. A far cry from the opening home video of them rocking out carelessly in the car.

Zidane: A 21st Century Portrait: When I first started watching this movie, I didn't know how long I could take it. I kept assuring myself that I was about to leave, but I couldn't bring myself to do it. This is one of the strangest movies I've ever seen, and what's most strange is how compelling it is. The filmmakers took multiple cameras to a match between Villarreal and Real Madrid on April 23 (My birthday!) and trained their cameras on Zidane the entire time. No matter what's happening on the field, even when Zidane's doing absolutely nothing, the cameras are on him. So for 90 minutes you're watching one person. And it's a fascinating experience. Even though it's kind of boring.

Fay Grim: I've never seen any Hal Hartly movie, but here was his sequel to Henry Fool. As I understand it, Henry Fool was some kind of serious movie, respected by a lot of Indie types. Fay Grim, however, is barely serious at all, almost veering into parody territory, even though it keeps a straight face the entire time. It takes the characters from Henry Fool - a garbage man/poet, a novelist, an anti-social novelist, and his unhappy wife - and throws them into an international espionage plot. Henry Fool has disappeared. His unpublished manuscripts are actually a secret code for a dangerous terrorist plot, and Fay Grim has to retrieve them. Ludicrous, but entertaining. I could hardly suppress my chuckle overhearing one man who said, "Henry Fool was one of my favorite movies. So it was... hard watching a sequel like this."
Grace is Gone: Now we're getting to movies I don't quite recommend to movies I totally hated. This was the big winner at Sundance, but I thought it was just merely okay. When I first read the description in the Sundance guide, I wasn't interested at all: A man (John Cusack) finds out that his wife has died in Iraq, and can't figure out how to tell his daughters, so he takes them on a road trip. The only thing that drew me in was "the buzz." One person warned me beforehand that it's slow because of all the driving scenes. Well, I learned something about myself while watching Grace is Gone. I don't mind driving scenes. I was never bored at any point in the movie. However, I did find that the movie has a fatal flaw. The whole premise is that a father is hiding the truth of their mother's death from his daughters. But when he first faced his daughters after getting the news, weird, awkward, and home when he should be at work, they would have known the second they saw him that something had happened to their mom. Especially the older girl, who watches the war on TV whenever she can, and can't sleep, because she's so worried for her mom. Another problem comes when he finally does tell his daughters the truth at the end. Not long into his speech, music comes in and plays over everything he's saying, so that we're basically watching a music video of his moving lips and crying daughters. Finish writing the big speech, for goodness sake! Still, fairly tolerable to watch.

Fido: Whereas the Slamdance film festival is nothing but Zombie movies, Sundance had only one, Fido. The premise is pretty clever. In 1950s America (you know, the sanitized Leave it to Beaver world with a dark underside that movies love), some space dust hits earth, causing the dead to come back to life. After the bloody "Zombie Wars," a company called ZomCom develops a domestication collar for the zombies, allowing people to keep them as pets and servants. The movie does a fine job exploiting this premise. It's just too long, and I never got that into it. If you think you would like this movie, you probably will.

Reprise: A Norwegian film about two young authors, one of whom seems to be suicidal, being all competitive amongst the blandness of Norway... until they go to Paris for a little while at one point. Lots of music and editing in this one, but here was another casualty of my imperfect eyesight. I couldn't read the subtitles, and the visuals didn't tell the story as well as in the other foreign films I ushered.

Chasing Ghosts: Beyond the Arcade: The most predictable, obvious documentary I saw at the festival. As it looks back at the video game stars of the early 80s, it falls into all the documentary cliches. It holds shots on people after they are done talking, to make them look ridiculous. It interviews a sarcastic video game expert for his snide, witty quips about old games. It is fascinated by mullets, a phenomenon that is no longer funny. It stages a meeting between old rivals who haven't spoken in decades. And it seems to enjoy the pitifulness of some of the characters. I don't understand why it had to add "Beyond the Arcade" to its title. True, it goes beyond the arcade to an extent, but it's not like this is a sequel to a previous documentary that only showed the arcade. Just call it "Chasing Ghosts"! Okay, there's some interesting stuff in here, but this was hyped up, and I was disappointed. The coolest thing about the movie is that the publicists set-up an arcade in downtown Park City, where you could play all these old arcade games for free. Dude, I dominated Off-Road.
Dark Matter: I was as frustrated during this movie as the main character, a student from China who goes to an American university, only to have his ambitious ideas crushed. I didn't believe the way he was shot down, and I didn't understand how he reacted, or the point the movie was making in showing all this. Plus, Meryl Streep gives the dullest performance of her career.
Joshua: Here was another festival favorite that I was totally at odds with. I was miserable and uncomfortable from the very beginning. Here is yet another story about a psychopathic bad seed kid who wreaks havoc on his family, before they can figure out what's going on. Why was someone compelled to make another movie like this, with absolutely no twist on the subject matter? So Joshua is an unemotional, monotone kid, and when his parents have a baby daughter, he quietly goes totally nuts. What he loves to do most is appear in corners when his parents least expect him. "Joshua!" his mom or dad will explain. "I love you, mommy," Joshua will say creepily. And now you can basically predict the whole movie. I'm really tired of psychopathic kids outsmarting everyone around them. It's time to update this genre. Take the entire plot of Joshua and make that Act One of a movie about parents who figure out that their kid is an evil psychopath and spend the rest of the time outsmarting him.

Year of the Dog: When you're dealing with a subgroup that most people can't relate to, you have to tackle the subject artfully enough to give the audience something to go on. Year of the Dog, about a woman who becomes a vegan animal rights activist, doesn't accomplish this. "It's fine if people want to do this, but I don't want to watch a movie about it," one woman said afterward. I felt the same thing while watching it, and I am a vegan. The most annoying part of the movie is that there are never any two-shots. Any time people are talking to each other, we see the first person face on, talking into the camera. Then we cut to the other person in the conversation, face on, talking into the camera. The resolution, though weak, does have my favorite last line of the festival: "This is what compels me on." I couldn't get that line out of my head for a while.

The Good Night: A really dumb movie about a British guy ("Gary") in New York who learns lucid dreaming so he can spend as much time as possible with the literal girl of his dreams. After a bad experience with Vegemite lookalike Marmite not too long ago, I've been suspicious of all things British. Especially if it involves comedy in any way. The British really are too fluffy. And too impressed with themselves and their fanciful use of vocabulary. Stop dreaming and go back to the old country, Gary!

Everthing's Cool: A tedious, artless movie about global warming. You know you're in trouble when the directors introduce the movie hopefully as a "companion piece to An Inconvenient Truth." You can try to make heroes out of people who want nothing more than to freeze the entire world into an ice cube, but it ain't gonna work.

Fraulein: Maybe this one would have been better if I couldn't read the subtitles. This was the slowest movie I saw at the festival. It's about a woman trapped into a routine, whose life is revolutionized when she hires a free-spirited girl at her company. Another sub-genre that needs updating. When is the boring person going to show the free spirit the joy of routine? Somehow this movie managed to make Switzerland look dull!
On the Road With Judas: Dear lord, what a horrendous mess of an experimental movie. Yet with such fine production values. Who invested in this totally unsaleable movie? During the Q&A, the very odd director admitted that he had no script when he started filming. And that this, his first movie, would also probably be his last. Instead of starting with a script, he had his actors read the book he was to base his movie on. Then, he set-up a mock talk show on a sound stage and interviewed the actors about their take on the characters and plot developments in the book. He filmed this, and used these interviews to inspire what was going to make it from the book into the movie. Not only that, he used the interviews in the movie itself, so that no event in the movie escapes commentary from the actors playing these characters. Horrible.

If I Had Known I Was a Genius: Yet here's a movie even more undisciplined and absurd than On the Road With Judas. Supposedly the story of a kid genius, most of the story is told by the main character, Michael (played by the writer), speaking into the camera. No scene goes by without Michael saying something to the camera. Except one, when his father dies. I so wanted Michael, crying at his father's death bed, to abruptly turn to the camera and go off. 36-year-old Markus Redmond plays the character (himself, essentially) from age six until adulthood. Which could have been funny, but seems here a cheap way out of hiring more actors. The first fifteen minutes or so is about Michael being a kid genius (the credit sequence is of him reading tons of books, proof that he's smart), but then he moves to California, and the movie inexplicably becomes about his crush on a girl. Then, about how he gets into acting. Then, suddenly, he's working at a Cost-co type store. Then he gets back into acting. Then, right at the end, the genius plot comes back in when he finds out what his IQ score had been as a kid, and regrets his mom hadn't told him sooner. Apparently, all this stuff happened in Redmond's life. And like somebody who hasn't taken a second of screenwriting classes, figured that if something happened to him, it could be in a movie and be realistic. Because it happened. Well, that doesn't work, as this movie proves definitively. Whoopi Goldberg is funny, though.

Did anybody see the exact same combination of movies as me? If so, I'd like to meet you, because that's almost impossible.