Though I grew up in Texas, going to The University of Texas never occured to me. This was all that I knew of it:
Which made Austin look like four more years of high school to me, and thus absolutely unappealing.
Benjamin Briggs convinced me otherwise. We'd been in theatre together at Berkner, and for some reason I felt compelled to email him one night after an especially gruelling day at Richland Community College. This led to an extended email exchange in which he convinced me that there was more to UT than this: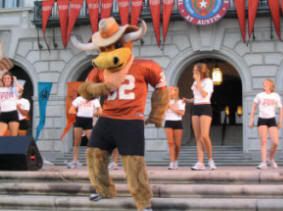 Though this was a part of it. A mostly avoidable part. So I moved to Austin.
Strange that Benjamin and I didn't make an effort to hang out after all that, but we did run into each other sometimes. One of the most memorable was seeing Benjamin right after his encounter with one of the angry Jesus advocates who so often loiter across the street from the UT campus.
"I just got a haircut, I was walking down the drag, I wasn't even doing anything, and that woman yelled 'Sodomite!' at me," Benjamin recalled. "Well. First of all, I'm not."
I also ran into him on the square in front of the UT tower one day. I don't know what we talked about (it might have involved "The Prisoner"), but I remember that he concluded the conversation by making an O with his index finger and thumb, peering through it, then pulling it off his face and upward. "Be seeing you," he said.
And now Benjamin Briggs has turned his all-seeing eye to that real life equivalent of Number 2, if there ever was one... Jeremy Coon.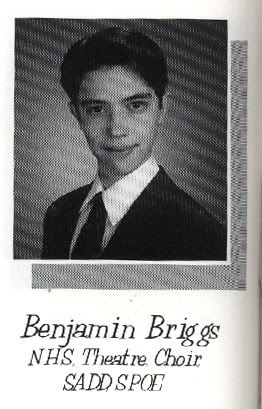 Benjamin Briggs: My name is Benjamin Louis Briggs--I was born in Dallas, TX at the City Hospital (because my parents were distrustful of the newfangled Medical City) on October 6, 1978. My bloodtype is AB. I grew up and lived in the same house in Richardson Texas my entire life until I left for university.
During those first 18 years, I was left alone in the house overnight only one time, and since my parents got into a fender-bender and returned by 9:45, I don't even consider it to count. You could say I led a "controlled" childhood. You could also say that I've spent the rest of my life rebelling, or maybe just trying to make up for lost time.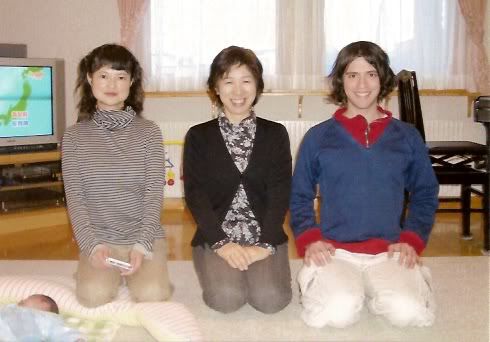 Benjamin: My life philosophy ranged from staunch childhood Methodism through Zen, Deism, Kabbalism (before it was done by pop stars, I am quick to point out), and even Technoshamanism. If I had to try and sum up my beliefs now, I would just say panentheistic, and leave it at that.
BJC: Ugh, Methodism? That's the worst religion! At least your parents bequeathed you the best bloodtype. Benjamin Briggs, the universal receiver! AB is also the type that allows the most varied diet, if you believe in eating right for your type. Which I don't. How do we know each other, then?
Benjamin: We met in high school, and also attended a film series on Fassbinder at the Alamo Drafthouse in downtown Austin, where we both attended UT. Over the years there we ran into one another on various suitably unscripted occasions.
BJC: How have you changed since high school? Any shockers?
Benjamin: Nothing really shocking, per se--I`ve learned to agree to disagree much better than I could in high school. The messiah complex is gone, but the megalomania still remains. I read less often than I used to, but I go out a lot more often. The biggest change is probably that when I was younger, I was angry at such a small group of people--now, my horizons expanded, I can safely say that I feel an intense mistrust and dislike of a much larger range of the population. Oh, and I've learned how to ride a bicycle. And kill a man with a sword and/or blunt wooden object.
BJC: Which you could only have learned in Japan, obviously. Why'd you move there? For the anime?
Benjamin: Yes and no. Meeting Pac-Man was a huge early childhood dream, which still has yet to materialize. I did get a black belt in kendo, though.
BJC: Wow, Kendo. I bet Number Six wishes he knew Kendo. He could have busted his way out of The Village a lot sooner, that's for sure. Thanks for telling me about "The Prisoner," by the way. I eventually did watch it on your recommendation, and now I love that show.
Benjamin: Glad to hear it! I figured that you would enjoy it. You might want to check out his older series, Secret Agent, if you get the chance. Lately I'm all over The Twlight Zone, myself.
BJC: So hilarious when that dude is the last person in the world and is about to read every book ever written, but then breaks his glasses. That really epitomizes the folly of man, wouldn't you say? Guess none of us are above it. What do you think will be different about your life by mid-2007?
Benjamin: With any luck, I'll have a much more functional grasp of Japanese and be accepted for an elementary school teaching position to begin in late 2007. I may also be working on some shorts by then, as I have finally been able to meet some other people with an interest in film production.
BJC: What do you wish will be different but probably won't be?
Benjamin: I wish I could remember to do my laundry in a timely fashion and wash the dishes every day.
BJC: You were one of the biggest fans of "Good-Bye to the Clown," the play I directed senior year. Tell me a little about that.
Benjamin: Well, there were several factors involved there. First, and ironically probably the least important, was the content of the play itself. As a child (and even a teenager) I struggled with an overbearing mother figure, which understandably made the play speak to me on an emotional level. I have also often been accused of retreating into a fantasy world; an accusation I find difficult to fully defend myself against. Peggy's struggle with reality speaks to me on a very personal level.
A second factor which attracted me to your production was the very act of choosing the play. The vast majority of your readers will not recognize the name of Ann Kizer, but if I`m not mistaken, she was less than enthused about your choice. What I enjoyed the most about the production, however, was that it was marked by your totally unique approach. There were very few people in our class, and even in our school, who could block thrust theatre correctly--I felt that you did a fantastic job with it.
But my attraction came from more than just the blocking and the lighting. For people who haven't met you it's difficult to put your outlook into words: that production really seemed to embody your deadpan charm, but with a surrealistic bent which kept it from becoming bogged down in the melodrama of the story. Matter-of-fact, yet in-your-face. I found it extremely entertaining which is, in the end, the most important thing.
BJC: You also really liked the one column I wrote for The Berkner Rampage, in which I called Berker a fascist regime, which ran in the class of '97's last issue. Tell me a little about that.
Benjamin: My reasoning here is slightly more shallow. The suit in your headshot was fantastic. If I'm not mistaken, you actually wore that suit to a banquet. The fact that you were able to get across an opinion which could only be called "subversive" by administrators in such a way as to get it published was also very impressive to me.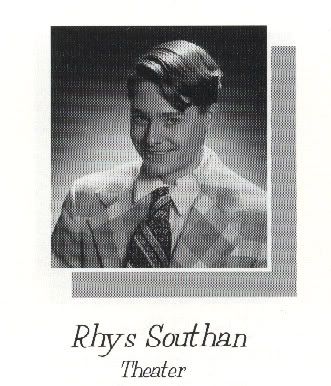 BJC: What was your connection to Nick Stevens, Robby Slaughter and
Duncan Gilman?
Benjamin: I hope Nick Stevens will forgive me if I say that I don`t remember him at all, because I don`t. Robby Slaughter I`ve known since elementary school. He was the first person I ever knew to have a computer in his house, and prophetic in the sense that he once told me that everybody would sooner or later. We were in Cub and later Boy Scouts together, as well as many of the same classes in junior high and high school. His interest in theatre in high school and later campus politics at university came as shocks to me at the time, but he pursued both with the same vigor he tackled everything in his life. (It sounds like he's dead, doesn`t it?) I like Robby, despite the fact that I haven't heard from him since I lost his business card after bumping into him on the way home from Vulcan Video sometime in 2002-3.
As for Duncan, I didn't meet him until I was involved in the Berkner Theatre Department. If I remember correctly, I sat next to him during auditions for Cyrano de Bergerac, where we also read at least one scene together. (I remember that he was wearing a sweater. Or that happened later and I imposed the sweater. For reasons I can`t entirely explain, I always think of Duncan wearing a sweater--even in memories that clearly happened during hot weather.)
[Ed's note: I can totally see that. I love Duncan!]
Once the production started, he was one of the only people willing to talk to me, as I was not taking a theatre class, and no doubt stepped on some sensitive toes as a member of the Supporting Cast. He was a member of my high school OM team and also starred in an epic but ill-fated film production I attempted to put together for AP Chemistry (Neil Panchal's hack-and-slash cut was the first time I learned what a crucial role editing plays in a finished film). We also appeared together in a number of productions at Berkner. Perhaps most importantly, he co-directed Line with me--that production would never have happened without him.
BJC: Who were your best friends in high school and what are they doing now?

Benjamin: Well, my best friend was Taylor Ellis. Or C.T. Ellis, as I believe he goes by now. We had a bit of a falling-out during my sophomore year of university, and didn`t see one another again until three or four years ago. Last I heard, he has two girlfriends, one of whom lied about having cancer in an effort to get attention. I think he said he was working in a print shop.
Leslie Hochman went on to study opera, but I have no idea if she made it or not. I like to think that she did. Scott Donovan is the only person I talked to daily at high school whom I still speak to now--he manages a coffee shop and gets into trouble all the time, for which I blame my sinful influence--he was, to his credit, a very good boy before he met me.
Ryan Sanders, a good friend since kindergarten, went on to marry Jennifer.....somebody, who I argued with every day in choir, at lunch, or both. He`s in the Army now, which I guess means he's in Iraq dodging ordinance. I make it a point to check the List of Dead from time to time, and I've yet to see him on it--I take that as a good sign. There are more people to mention, but as I have absolutely no idea what they're up to now, I don`t imagine it can be terribly interesting to read about them.
BJC: Do you have any bad memories from Berkner? How should high school have been better? Let me rephrase... If you'd been principal, how would YOU have run things differently?
Benjamin: In retrospect, I can see that the Benjamin Briggs of high school would have made a dangerous principal. But, being in theatre, I was well-known without any responsibility to be well-liked; I never noticed this at the time but look back on it as a good thing.
Naturally, Berkner needed more room, which it has now (although I question the architecture). I would definitely have given AP teachers more open reign in determining their curriculum, and enforced No Pass, No Play with an iron fist, assuring my unpopularity with every conceivable faction. I also would have moved the damn band hall over to the athletics wing, to give theatre, choir and orchestra more room to breathe.....and hear themselves think.
BJC: Are you in touch with any other Berkner people?
Benjamin: Not really. Although I sat through an advertising class with Tiffany Taylor, who I played opposite in Laurie's production of Antigone.
And I saw......Erin what'shername (pretty little girl a year under us and, if my friend Justin was to be belived [and who's to say at that age], had a penchant for receiving oral sex on the still-warm hoods of freshly-driven automobiles).....anyway I saw her buying frozen cutlets with a really tall guy at Sam's Club one afternoon before the turn of the millenium. She didn't recognize me, and I was in a hurry to the automotive center (for totally Platonic reasons).
I ran into my friend Nathan Moss a few times at the bus stop--he had some personal problems to work through, but we never exchanged numbers.
My mother obsessively mails me wedding announcements from the Dallas and Richardson papers, but in all honesty, I don`t remember but 10% of them. I was very much in my own world in high school--it passed by me and all around me, but very rarely through me. It shows, I'm afraid.
BJC: How would you compare Berkner people to the rest of the world now that you've been all over? Are we different?
Benjamin: Definitely. We suffered white, upper-middle class gang shootings way before it was chic. That kind of social tension doesn`t just pop out of thin air. Many of the neighborhoods which fed Berner were nationally ranked and otherwise acknowledged while we were at the appropriate preceeding elementary and junior high school levels. There were quite a lot of very brilliant, highly motivated people there. I'm sure that this happens in other places, too......just probably not in Texas.
BJC: Is there anything that stands out about Berkner that might account for so many success and near-success stories?
Benjamin: I can't speak for the entire school, but I was fortunate enough to have several truly excellent teachers every year I was there. Great educators inspire greatness in their students.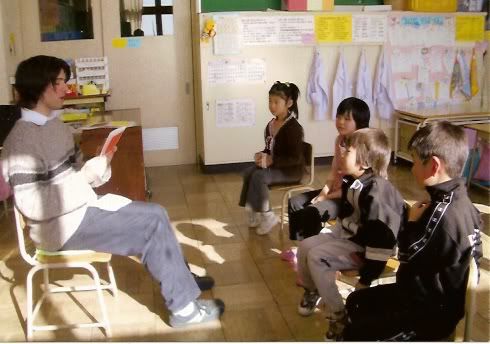 BJC: Jensen Ackles is another high profile Berkner success story. Did you ever watch him on "Days of Our Lives"? Do you watch him now on the WB hit series Supernatural?
Benjamin: With very few exceptions, I don`t watch television anymore (and none of it is network telelvision that isn't older than I am). But it was not unheard of for me to click past NBC to check if he was on Mr. Rhodes back in the day. Not because I found the show anything but banal, which it was, but because Jensen managed to look both curious and smug at the same time in every shot he was in.....I felt that was a facial expression worth mastering and using for my own personal gain.
BJC: Was it this one?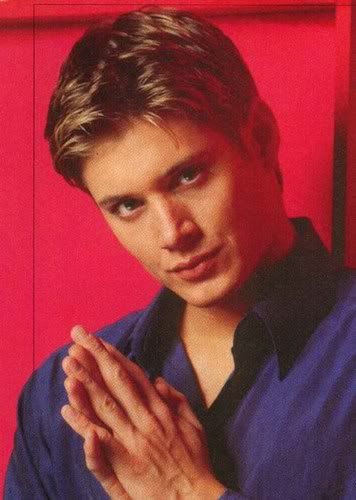 This one?
Or maybe this one?
Benjamin: If the rumor mill is to be believed, the proceeds of even that short-lived of a prime-time network program bought him his house in L.A. As Jensen and I never particuarly got along, the only project featuring him I was ever interested in seeing was, to quote Ann Kizer, "some B-movie about vampires or something." I see nothing of the kind on his imdb profile, so I have no idea if I'll ever get the chance. But on closer examination, it's a bit of a stretch to say "Also sings and plays guitar" on his personal trivia section, as I'm sure any cast member of West Side Story would be able to attest.
[Ed's note: Jensen Ackles played "Tony." I should have.]
BJC: Who deserves to have his ass (figuratively) kicked more: Jeremy Coon or Jensen Ackles?
Benjamin: One of my favorite memories of Jensen was during my senior year at Berkner when he stumbled extremely drunkenly out of a car and meandered onto the lawn of a friend's house, screaming obscenities until [said friend] Ryan Sanders exited the house to talk to him. The altercation on the front lawn was too short-lived for actual fisticuffs, but I like to think that if it had come down to it, Jensen would have had his ass handed to him then and there. Figuratively, I have no idea.
[Ed's note: Jensen Ackles was in Wishbone. Ryan Sanders would have paved the streets with his skull.]
BJC: Is there anyone from Berkner that you are trying to "beat" in the way I'm attempting to beat Jeremy Coon?
Benjamin: Since 4th grade I have attempted to beat Celest Villanueva. She beat me out for class president and I never could forgive her. But although she refused to acknowledge my victory, she and I both know that Line was way better than her Senior One Act, so my mission is already accomplished. I hope you can beat Jeremy Coon--revenge certainly is sweet.
BJC: As far as raw talent goes, is there anyone you know who deserves to make it big but can't quite get it together?
Benjamin: Why yes.....me! But I choose to justify not having it together with "life experience research." That and I do actually still plan on trying to tell the stories I want to/need to tell.
BJC: That's my excuse too! What did you think of Napoleon Dynamite?
Benjamin: Until I came back to Texas for winter vacation, my knowledge of Napoleon Dynamite was limited to references I saw in print, which gave me a very skewed perspective on the film as a whole. I really wanted to go to the Drafthouse at the time, but my friends insisted upon showing me a movie "I was gonna love."
By the time the credits were rolling, I was totally confused. How had this become the most popular film in the US, and a new crown jewel in the American Lexicon? Frankly, I was dumbfounded. Given my own decidedly not cool background, I felt I should have found his antics either endearing or hitting too close to home. I felt neither--just an intense feeling of regret that I hadn`t fought harder for that trip to the Drafthouse instead.
I comforted myself with the insistence that a social comedy like that would never be able to follow me back to Japan, but what should I see at the video store not three weeks ago in the New Releases section? Basu Otoko [バス 男], or Bus Man (possibly a "humorous" reference to Densha Otoko [電車 男], or Train Man, which was a popular film/television drama about a social outcast). Even though "Napoleon" transfers more or less perfectly into one of the Japanese phonetic alphabets! A very frustrating experience all around. This is why I am no fun at parties.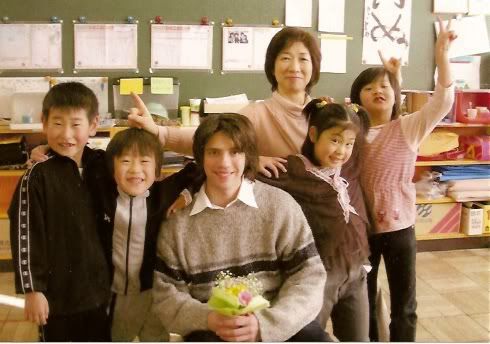 BJC: Are you as excited about The Sasquatch Dumpling Gang as I am?
Benjamin: Before I was aware of your blog, I had no idea this film was even in existence. After reading up on it a bit, I have to say that while it certainly sounds more interesting than Napoleon Dynamite, I am still much more excited about Snakes on a Plane.
BJC: Have you or would you ever wear a Vote for Pedro T-shirt? Or are you more of a "Pedro Lacks Political Experience" kind of guy?
Benjamin: Summer is a real bitch, so I would still support Pedro, despite, nay, perhaps even because of his lack of political experience.
BJC: What Berkner grads have you talked to who know of Jeremy Coon's success? Were they impressed?
Benjamin: I've mentioned him to no one.
BJC: How well did you know Jeremy Coon in middle school? What was he like then?
Benjamin: Did Jeremy Coon even go to Liberty Junior High? My old annuals are back in Texas, so I can't check the details. I was really far too busy being depressed and/or violently happy to notice other people back then.
BJC: Well, did you at least know Jeremy Coon in high school?
Benjamin: I didn't know him well. I didn't know anybody very well outside of the immediate circle of crazy people I surrounded myself with.
BJC: How did Jeremy Coon functional socially?
Benjamin: Again, being totally immersed in the politics of high school theatre and the swirling terrors of my own subconscious, I was largely unaware of the day-to-day actions of Jeremy Coon. He just didn`t fit into The Big Picture. But from what I do remember of him, he existed without friends or enemies, but was not a man alone, either. The kind of guy who was never featured in teen dramas during our youth, but is now sometimes the focus of them.
BJC: What sort of cliques did Jeremy hang around? Who were his closest friends?
Benjamin: Jeremy never seemed to have a particular circle that I noticed. That doesn't mean it wasn`t there, though.
BJC: I hear he was close with Bonnie Coover, the girl who broke my heart forever in seventh grade. Know anything about that? Did you know her? Did she say why she broke up with me?
Benjamin: The only Bonnie I remember from school is Bonnie Martindale, with her self-inflicted naval piercing infection she resolutely refused to do anything about. Oh, and she and I went to prom. I still have the odd pang for her. I'm afraid I really can't help you with the Coover girl.
[Ed's note: Bonnie Martindale was a pretty good Bonnie as well. She was in "Good-Bye to the Clown." She played Peggy's fantasy-crushing teacher.]
BJC: What's your feeling about the Berkner community reaction to Jeremy
Coon? Is he a hero to us?
Benjamin: I don't think he'll be a hero. If he had, say, directed the film, or starred in it, things might be different. But only people really interested in movies usually care about the producer. I don't feel that Berkner has its hero just yet.....
BJC: What do you make of Jeremy Coon saying (after high school, but before Napoleon Dynamite), "Rhys was so weird in high school, he was an untouchable, even to me"?
Benjamin: Well, I would have described you as "iconoclastic" rather than "weird."
BJC: Thank you. For that, I'm rewarding you with a softball question. Did you see any similarities between Jeremy Coon and the character of Napoleon Dynamite?
Benjamin: Actually, yes. Both are (and I mean this sincerely, insofar as it relates to the question) totally forgettable people. Jeremy Coon made no strong impression on me; likewise, had I actually known Napoleon, he would have been a sort of background character in my perception of the world. Despite their mutual awkwardness, they don't stand out for me.
BJC: Did you know that Jeremy Coon was a Mormon? Does it make sense in retrospect? Do you think he was hiding it?
Benjamin: After seeing the film, yes. A friend of mine at university once declared The Princess Bride "The ultimate Mormon movie--it has action without violence, is completely chaste, and includes no foul language to speak of." And although I have no idea if Mormons were directly or indirectly related to its production, I've never liked that film. But Napoleon Dynamite has that same you-can-buy-it-on-DVD-at-a-Wal-Mart-in-The-Bible-Belt appeal to it. Nothing really happens--the characters are largely static--I felt no sense of emotional risk as a viewer.
BJC: What have your experiences with Mormons been like?
Benjamin: One of my very best friends, Scott, is a Mormon. But while I find the religious teachings (and researching religion, especially as it relates to mythos and personal character guidelines has become a sort of hobby of mine) largely ridiculous, his family has (to my face) never been anything but polite to me. Terrified at times, but always polite. I used to get Scott in trouble a lot when we were younger, and now that we're older things haven't changed much--except that he can get into trouble just fine all on his own if he needs to.
I was never really bothered much by missionaries growing up or now--I`ve seen the ubiquitous pair of them here in my town in Japan, but our bikes are usually going in opposite directions. In short, my experiences with The Church of Jesus Christ of Latter-Day Saints have been nothing but pleasant. But I make it a point to never talk about the magic underwear.
BJC: I once considered converting to Mormonism to beat Jeremy Coon with his own tools. I've kind of let that plan fall by the wayside. Should I revive it?
Benjamin: Well, if Jeremy's religious doctrine is to be believed, he's going to acquire his own planet to be god over, so you're going to need some serious firepower in the long term. As far as this mortal coil goes, I'd say you're probably better off throwing in your lot with the Hollywood Kabbalists or The Scientologists if you want to get ahead in the movie business. Or the Masons--but they tend to go government.
BJC: How did you find out that Jeremy Coon produced Napoleon Dynamite? Was it a shock?
Benjamin: I found out from you. I was, to be honest, more shocked to hear from you. Not because I ever imagined that Jeremy Coon of all people would go to become A Big Movie Producer, but because I hadn`t heard from you in a long time.
BJC: Yeah, well, it's a two-way street, buddy. So you weren't surprised that Jeremy Coon of all people became such a hotshot?
Benjamin: My money certainly wasn't on him. Technically, The Sean Connery Golf Project makes you the first person from our class to Make It Big, and since it involved scandal, I think it also trumps Jensen. Did that ever get all ironed out?
BJC: Sara pled guilty and got 400 hours of community service and a $500 fine. I've yet to pay for my crimes. But I will one of these days. Who hasn't made it big from our school that you thought would?
Benjamin: Well, if you insist on saying that you haven't, then you. And me. And Leslie (she really does have a gorgeous singing voice). And Duncan. Arts was really what Berkner had going for it while we were there--I hope to see a lot of big names from our graduating class before all is said and done.
BJC: When will all be "said and done"? When we're dead? That's depressing. I guess death is a more meaningful deadline than a high school reunion. Nevertheless, how do you think you'll fare at the Berkner class of '97 10-year reunion?
Benjamin: I have lots of plans, but they require the utmost secrecy in order to work. None of them have anything to do with successes of mine in life--I`m not ready to impress anybody until I can impress everybody.
BJC: Do high school reunions matter? Does the prospect of one make you want to try harder? Will you even go?
Benjamin: I plan on going if I can work out vacation time to go back Stateside. But no, I don't think they're all that important in the long run, although my opinion may change when I walk through the front doors of the event. I'm certainly not working particuarly hard to get anything special accomplished by then.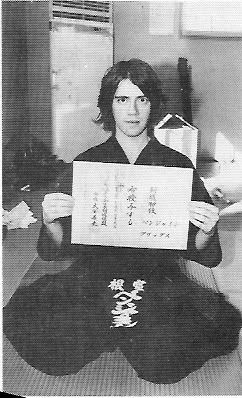 BJC: Are you at all concerned with Jeremy Coon basically blasting us all out of the water by being the producer of such a fantastically successful movie and going on to produce The Sasquatch Dumpling Gang and God knows what else by summer 2007?
Benjamin: Not really. But if, like you, I was attempting to beat him, then I might be a little concerned. Still, I think that despite his early success, you have more significant things to say than he does. And the public is fickle. A new, even more inane film may come out in the meantime that causes everyone to forget all about Napoleon Dynamite/The Sasquatch Dumpling Gang.
BJC: By the time our high school reunion rolls around, will everyone at Berkner already know that Jeremy Coon is the big success story? Are they going to be clinging to him?
Benjamin: I have pretty limited access to US local news, which is, I think, the outlet which would be most likely to sing Jeremy's praises. "Hometown boy makes good" and all that. I think anyone clinging to Jeremy Coon at the reunion will be vastly overestimating his power brokerage in Hollywood.
BJC: Will Jeremy Coon use his newfound celebrity to seduce a former highschool crush?
Benjamin: I know that if I were in his position, I certainly would try. I'm just not sure how much seductive power the statement "I produced Napoleon Dynamite" has among Texan late-twenty-somethings. He's going to need more than just a producer's credit--he's going to need a nice car, too.
[Ed's note: Oh, he'll have that. In spades.]
BJC: Do you think there are any contenders from our class of '97 who might possibly out-success Jeremy Coon? If so, who and how?
Benjamin: In the long term, yes. But by 2007, the field is narrowed quite a bit.
BJC: Do you think Jeremy Coon will even appear at our high school reunion? Why or why not?
Benjamin: I think he'll go. There will be someone from the graduating class he will absolutely have to see and gloat over in his success.
BJC: Have you accomplished everything you hoped you would since high school?
Benjamin: Not hardly, but most of my plans even then were fairly long-term. And I've become involved in things which I never would have assumed I'd be doing back when I was in high school.
BJC: Killing men with blunt objects, for instance? In what ways has your life not lived up to your post-high school graduation expectations?
Benjamin: Being an Eagle Scout never got me a job. Or even a second interview.
BJC: I know it's up to me, and of course I have a plan, but do you have any suggestions for what, preciesly, I should do to beat Jeremy Coon?
Benjamin: An entrance is important. Or rather, upstaging Jeremy's is. Even if you lack the hard film backup to undo his success, people are fickle--if you put on a better show, I think you'll come away with more favorable press. In university, I always wanted to upstage a frat party with the use of a gigantic hovercraft, but research into that proved it to be an unworkable plan. You may not have to be quite that extreme, but it might be worth looking into....they tend to be too wide to move down a city street.....
BJC: What about my Beat Jeremy Coon blog itself? It's fairly time-consuming when I'm actually working on it. Is it counter-productive to my goal?
Benjamin: It gives you something more or less physical to showcase how far you've come. As long as the work on the blog doesn't supercede the actual beating of Jeremy Coon, I think it's a positive contribution to your effort.
BJC: What's the road to success? Or are there many?
Benjamin: I think there are many, but almost all involve tapping into the deepest reservoirs of your own self. That being said, though, I think that success does indeed find people more often than the other way around--the trick is preparing yourself to meet that success when it arrives.
BJC: Tell me everything else you can think of about Jeremy Coon.
Benjamin: I think I already have.
BJC: You sure have, Benjamin. "Be seeing you!"