You didn't really think that was my last entry, did you? This whole blog was about my 10-year reunion, so it would be hard to justify leaving that part out.
The only reason it's taken me so long to post an actual final entry is my continuing work for Michael Bluejay, and my recent discovery that videos of every Siskel & Ebert review (and Roeper, if you're into that kind of thing) starting in 1986 are now available online. It's easily the best thing on the internet.
Also, everything I was writing for this entry felt flat. The problem is, I already know what happened. I won't gain nearly as much information by writing this entry as you will by reading it, which probably makes it more exciting for you.
I thought about not going to the reunion, out of fear that I'd made too big a deal about the reunion with too little to show for it. Then I thought, well, I'm in Richardson, I dragged my girlfriend out here, I did build a lot of anticipation about this, so why not go? Frankly, it could have seemed like a cop-out not to go. "After all this, you didn't even go?!" is a comment I could imagine appearing under my entry called, "Well, I didn't go to the reunion, ultimately."
But I did go to the reunion, which spanned two nights, though not without a break. Part one started Friday night with a football game. I'd never been to a high school football game before, so I didn't know how to get there. Which was fine, since hardly anybody bothered with that, and the reunion began at Fox and Hound, a 5-acre bar that was bigger than any bar I've seen in Manhattan.
Photo op!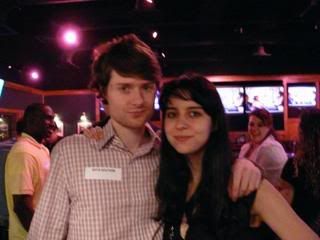 I knew that Nick Stevens wasn't going to be there. Since he was the person I most wanted to see, I was disappointed, but it also added to my acute anxiety. Nick Stevens, though he didn't realize it, would have been my support system in case of a not-beating-Jeremy-Coon worse-case-scenario emergency. That emergency did exist (in my head, at least), but then I ran into Luc Giambasu and Nick Benoit, who eased my concerns, to an extent. Nick Benoit thought I shouldn't worry, since everyone thought my beating Jeremy Coon quest was a joke. I'd imagined that everyone at the reunion would have read my blog and be expecting some kind of High Noon-esque standoff, so this was comforting to hear.
Here I am in a rare profile shot, with Nick Benoit.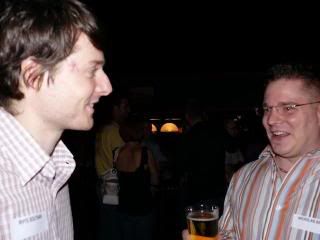 Luc was a little more cynical, saying he thought I'd put myself out there a bit too much with the blog, presumably suggesting that I might have invited disaster. He was a bit of a nay-sayer from the beginning; when I'd told him about the blog early on, he objected, saying, "Nobody from Berkner should have a blog called 'Beat Jeremy Coon'." I agreed with his point, except for one exception. Me.
Here I am with Luc and two people I don't know.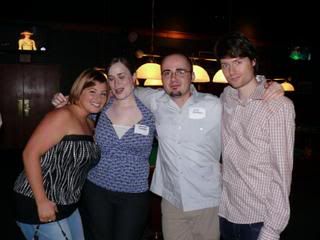 At this point, I was hoping Jeremy Coon wouldn't show up. Then Nick Benoit saw him. "Are you going to talk to him?" Nick asked. I knew I'd probably have to. And I had reason to believe Jeremy Coon wouldn't be hostile, despite all this blog rigmarole. Last year I'd become MySpace friends with him, and even sent him one message, to which he'd responded kindly. "Ahh, he's so nice," I thought. "I can't beat this guy." And so I made a point of not beating him, for fear of appearing rude. So there was no real reason for him to have a grudge. Nevertheless, I was afraid I'd created an awkward situation.
So I tried to avoid Jeremy Coon at first. I was sitting with Luc and Nick in the main area of the bar as Jeremy Coon was in line for the private side room devoted to the reunion. "Aha. I'll wait for a while, then get in line, and he won't see me," I thought. I did just that, but the line was moving so slowly that when I got in line, I was still in eye-shot of Jeremy Coon. I was too afraid to look, but Nicole said he saw me.
I tried to look busy so I wouldn't have to look back, by talking to people in line with me. Wouldn't you know it? Hilary Bryant, whom you may remember from a BJC Exclusive Interview, was right in front of me in line.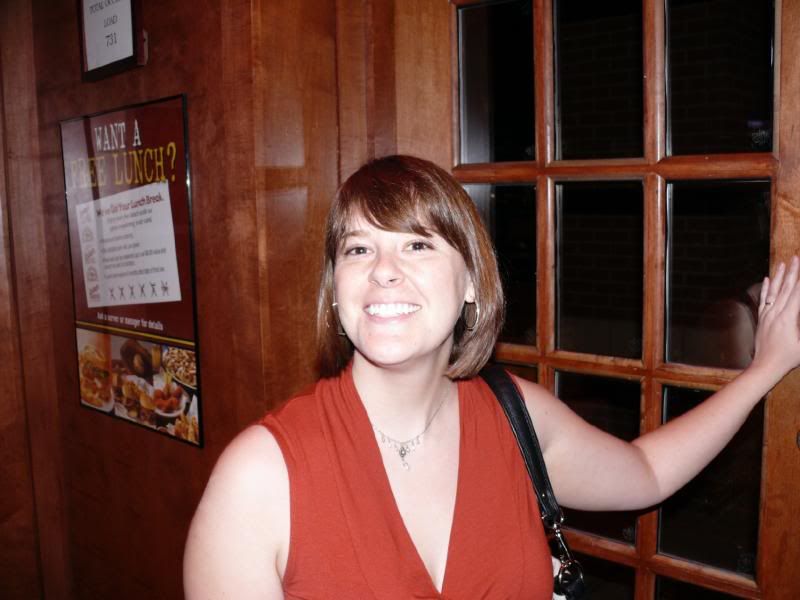 And Nick Hasegawa, whom you won't remember but I did, was right behind me.

But talking to them was merely delaying the inevitable, which Nick Hasegawa pointed out. "He's a nice guy," Nick said encouragingly. "Go talk to him."
"Okay," I said. "I will."
But first I talked to my old buddy Craig Overby. For a while.
Craig was tall as ever, but was now married to - appropriately enough - someone named Whitney Overby. Craig sells medical supplies for a living.

Then I talked to Luc and Nick some more.
Luc, it turns out, is a high school Spanish teacher, and Nick works for his dad's company. I already knew that. But I was delaying.
I could have put off speaking to Jeremy Coon longer if my friend Casey McLaughlin had showed up. Casey lives in Dallas, but Nick Stevens told me Casey had said, "I'm not gonna go." Casey had hated school too much to honor the reunion with his presence, even though his occupation - testing video games - certainly would have made him one of the major success stories.
It was about time to talk to Jeremy Coon, I decided. Nicole, who is my eyes as I am her ears, saw Jeremy Coon across the room. But he was talking to a girl very intently, Nicole said. I debated whether attempting to "lip block" Jeremy Coon and this girl by approaching him at what was possibly an inopportune time. I decided against that, though, which gave me more time to gain my bearings.
Eventually Jeremy stopped talking to this girl, and was looking around the room. Looking for me, Nicole thought. So of course I stepped up.
I walked over to him, but then I realized there was a long bar cutting the room in two, and he was on the other side. I was close enough to shake his hand, but it would have been strange to do it over this obstruction. "I'll have to go around," I schemed.
On the way, I ran into Keith Lucky - Berkner '97's Prom King and winner of Berkner's Nicest Guy - so I stalled with him for a while. But though you may fight fate, you rarely win.
"Hey, Jeremy," I said, extending a hand of peace. He laughed and smiled and greeted me back. "I saw that you went to Japan," he said. Beyond that, I don't think we talked about the blog at all. I asked Jeremy about his decision to return to the bosom of Utah, his travails with finding distribution for his last film, "American Fork," and his advice for me. He argued that attempting to sell my script is a futile endeavor, and that I should produce it myself instead. "I don't know where to get the funding," I said. "Eh, just meet a rich dentist," he countered. "Okay," I nodded.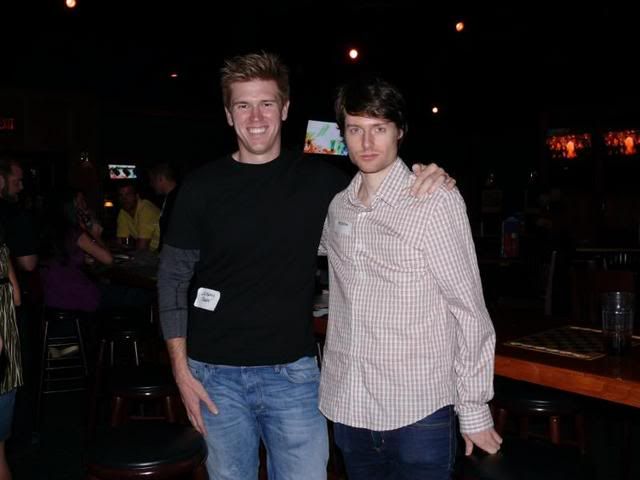 Look at me. Trying to play it cool as I dig my fingernails into that table and the sheer fear emanating from my body is so robust, it actually puffs out my fitted shirt.
I wasn't talking to Jeremy Coon for too long before Steven Pan - now a surgeon of some sort - interrupted to gush, "Jeremy, man, I loved your movie!" Exactly what I was afraid of, all these years! "Thanks. What are you up to now," Jeremy said, swiftly deflecting the compliment. I don't know if the humility was for my benefit, but I suppose there's a limit to how much you can enjoy rapturous praise. I did have my "revenge," if this incident is something that merited vengeance, when someone I'd asked out in sixth grade came up to us and seemed really happy to see me, and then said, "Oh, who are you?" to Jeremy Coon.
The next night was a more formal get-together near the top of that building in the downtown Dallas skyline with the vertical green neon lights going down all its edges. Like the night before, it wasn't disorganized so much as strangely unorganized. There was no leader, no real authority figures besides the bar tenders. There was no faculty, no "get to know/remember you" games. It was just Berkner '97 graduates in a room together, ten years later, left to our own devices. There were no cops either, which essentially made it anarchy. Well, let me tell you. I'm a believer now. Anarchy works.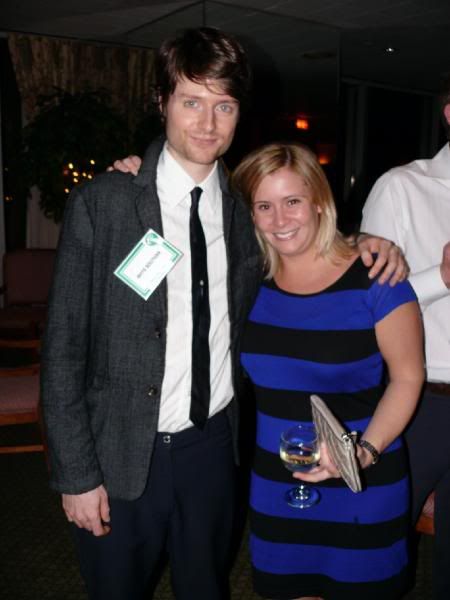 Marcie Calhoun! She lives in New York, doing something or another here.
Tommy Stockton! He was Berkner's only male cheerleader when we went there. He's rocking it in Frisco, Texas these days.
Guess who! Yep, it's Luc again, never happier.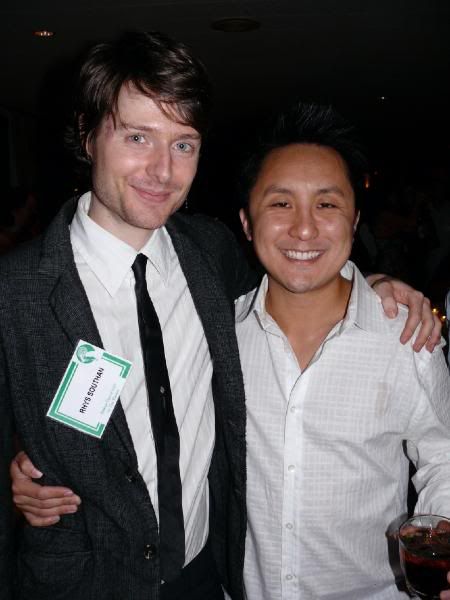 Leon Chen, one of my best friends in sixth grade. He co-owns Tiff's Treats, a cookie-delivery business in Austin and Dallas, making him one of the more successful alums.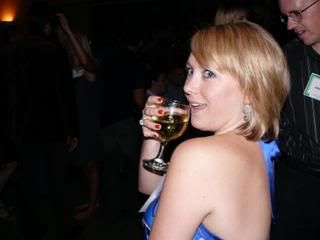 But he couldn't do it without Tiff, of course!
It's Jennifer McMillan and Stephen Pan! They went to prom together, and now they live together in New York, where I'm sure they watch Napoleon Dynamite... if Mr. Pan has anything to say about it.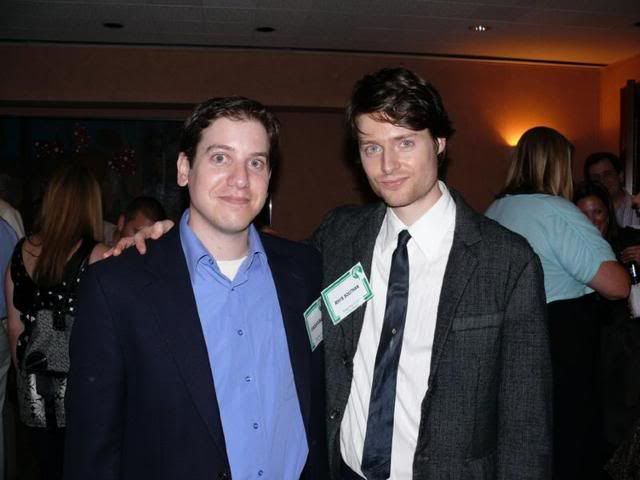 Duncan Gilman! I don't know why we didn't stay with this guy when we went to L.A. instead of torturing ourselves with a new place every night. Maybe that city deserves another chance.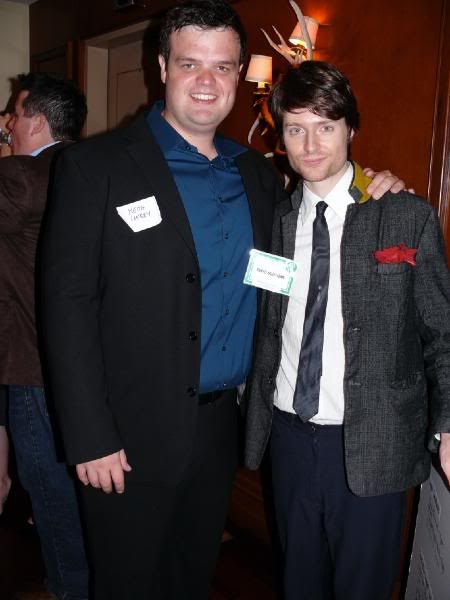 It wouldn't be a Berkner High School reunion without Keith Lucky, reigning prom king from '97. He lives in New York too, making sure security guards don't slack off.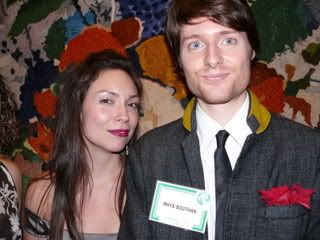 Celest Villanueva, another Berkner type, lives a fairy tale life with said prom king now.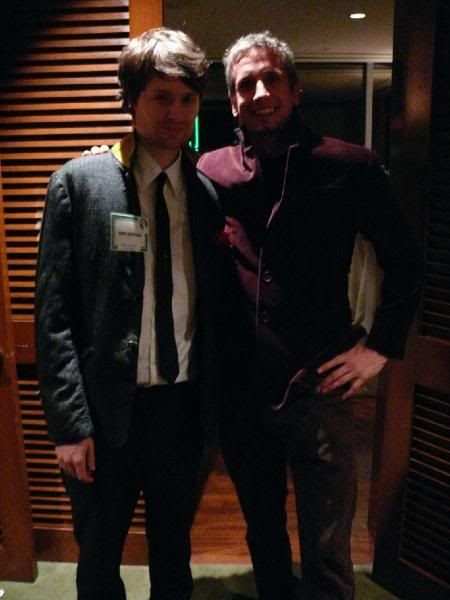 Mike Grey, who opposes flash photos, and bought beatrhyssouthan.com once he heard about my blog.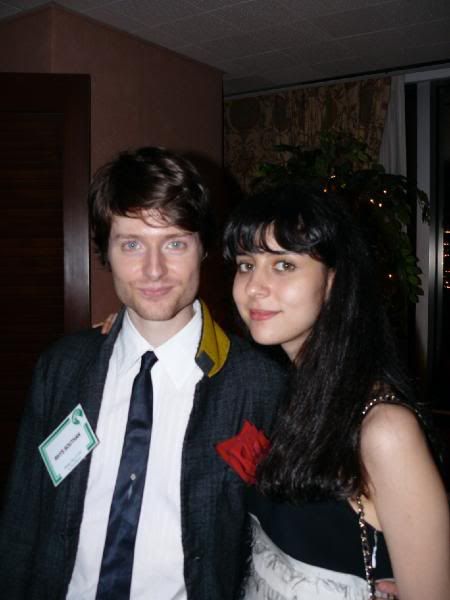 Nicole didn't go to Berkner. She was my guest.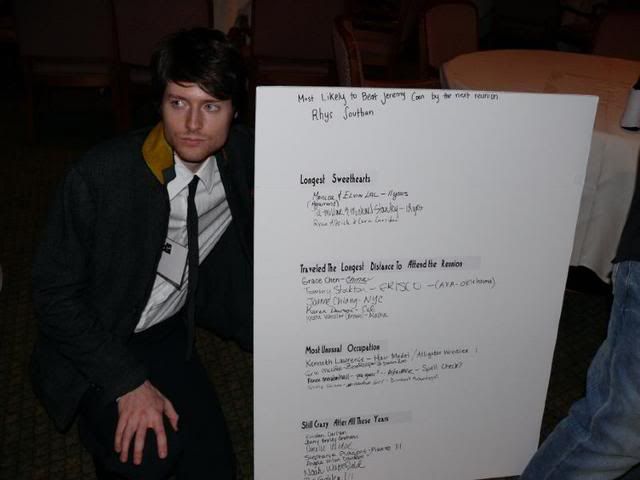 The only nominee for "Most Likely to Beat Jeremy Coon By the Next Reunion," thanks to some last minute work by Nicole.
Receiving my award for "Most Likely to Beat Jeremy Coon by the Next Reunion."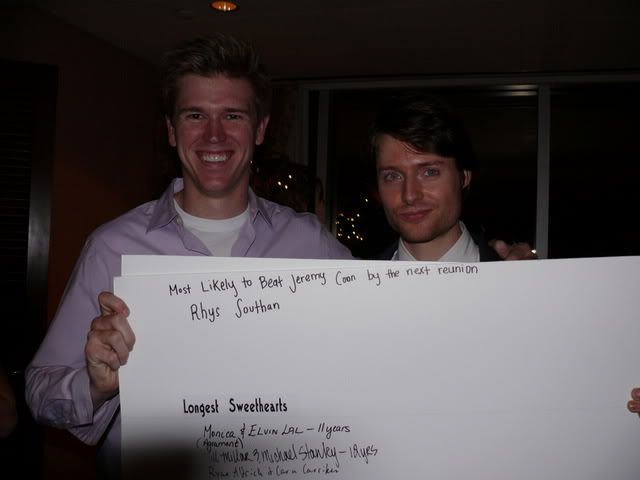 And a congratulatory pat on the back from my new fan.
There were so many others! Unfortunately I'm blinking in those photos, so you'll never get to see.
And there you have it.
In conclusion...

I went through many short careers since I started this blog. I worked at Angelica Kitchen for about nine months. I worked on a children's book about alpacas. I worked at Pure Food and Wine for a few days. I was a theater reviewer for The New York Sun for about a month before I was fired for irresponsible journalism (I gave a blistering review to a play I'd only partially seen, a play that in retrospect wasn't so bad). I sold furniture on Craigslist. I found links for the now-defunct Web site "Office Pirates." I worked for an event planning agency. I was a substitute for the superintendent at a few Upper East Side buildings. I modeled. I went to Japan to shoot and edit a TV show. And other stuff I'm forgetting. I do these things just enough to scrape by while I work on my various projects. This apparently is how I choose to live my life, because it was like this long before I started this blog. An ad agency, a PR agency, a macrobiotic restaurant, a TV station and so on. Internships used to be my favorite job because just like life, they have a set end date. Commitment. It's not for me. Unless it's for my own writing.
I assumed this kind of lifestyle would be difficult to explain or justify at the reunion, since its fruits are tough and green at best, but surprisingly to me, there was no explanation needed. People were just glad or at least interested to see each other, and few cared enough to inquire about the specifics. Hardly anybody at the reunion that I asked already made money doing exactly what they wanted to be doing. So it didn't really matter. I made a big deal over nothing. Jeremy Coon's accomplishment is impressive, but at the ten-year reunion at least, there's no shame in not measuring up.
The 20-year reunion is another matter. What I've learned through this experience is what many have learned before me, and many will learn hence. It doesn't matter. It's just two nights every ten years. And even if it did matter, envy isn't going to get you any further than lust, gluttony, greed, sloth, wrath or pride will. Beat yourself, people. Beat yourself.
But I've blabbed enough. Stay tuned for the very last entry on Beat Jeremy Coon, my interview with the man himself... Jeremy Coon.