Apparently, the Berkner 10-year reunion is on September 29 of this year. I haven't received my invitation, but everyone else I know from Berkner has. Either this means I've been banned for causing trouble, or they sent it to my old address in Austin.
This gives me about four months to top the success of Napoleon Dynamite (or at least Jeremy Coon's contribution to Napoleon Dynamite). Which is more than I thought I'd have. I had guessed it would happen some time in June. Almost October? It might as well be the 11th year reunion.
Still, four months isn't a lot of time for much. Two years ago, I had limitless options for beating Jeremy Coon. I could have run for office on a platform of change. I could have directed a movie that quadrupled the Academy Awards that Napoleon Dynamite won. I could have made it rich investing in the "SCP-Pool" corporation before the Katrina disaster (I don't know what this company is, but it tripled after Katrina). I could have written a blog so successful, the phrase "Beat Jeremy Coon" was more familiar to America than "You idiot!" I could have moved back to Richardson and become friends with the current Berkner High School administration and made sure they "lost" Jeremy Coon's invitation.
I did none of these things. At this point, I have only three options.
1. Maybe my burgeoning semi-nude modeling career will take off.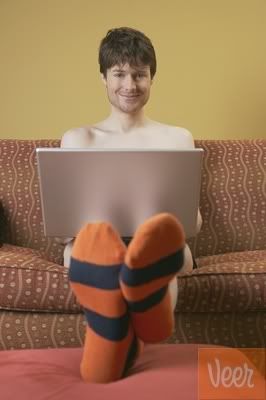 But I haven't been pursuing it lately.
2. That's because I've been working in real estate. It's conceivable, though unlikely, that I could make a good amount of money through real estate in the four months I have before the re-union. But from what I understand, Jeremy Coon is rich. And he produced a movie. So simply making money isn't enough.
3a. The main thing I've been working on, and the reason I haven't been writing in this blog, is that I've been writing a script. The success or failure of it will basically determine whether I beat Jeremy Coon. This is pretty much my only chance now. That's a lot of pressure for a commodity that is in over-supply and difficult to sell even when its quality is high. Let's say I finish the final draft on July 1st, which should be possible. That gives me about three months to do something with it. If I sell the script, then I think I can safely say I've beaten Jeremy Coon. Writing is cooler than producing (though producing certainly has its merits), and even though Jeremy Coon has produced three movies now, only Napoleon Dynamite has actually been released. So unless some Berknerites caught "American Fork" at a film festival, it will still be one-on-one.
3b. If I don't sell the script on time, the only thing left for me to do is to try to raise money and produce it myself. In a sense, that's even better, because by being writer and producer (at least), I'll have definitely shown him up. This is still not as easy to admire as a movie already made, that most people have seen, and was a huge hit. This could be an advantage, though. I mean, Napoleon Dynamite will be three years old by our re-union. That's a friggin' toddler in human age, and an old man in dog years. Can anyone even remember back that far?
Still, what took me so long? I had the idea for this script over six months before I started this blog. Six months is enough time to write a script, so this blog should have opened with me having this script and trying to get it made into a movie that could one-up ND. Instead, I was unfocused and undisciplined, as I think I documented. Plus, having to acclimate to life in Greenpoint didn't help my concentration either (my previous few months in New York, I lived in Williamsburg, which was of no help to me here). I'm not totally sure where the year went (some of it I slept away), but it wasn't until last summer that I actually started to outline and then write this script.
Writing this blog is one of the main culprits. Which is why I haven't been writing in it lately. Any writing time I spend in a blog, I could be spending on my script, which - if it works out - serves me much better at my high school reunion than talking about besting a former classmate does.
So I guess I should get back to that.