Bars and clubs in America, of course, enforce a 21 and over drinking rule, and most won't allow people younger than 21 in. So I think a good New Year's Eve tradition in America would be for the drinking age to be abandoned for a day. Not because minors should especially be drinking on New Year's, but rather, to welcome the New Year's Baby.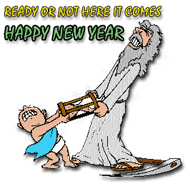 How can the New Year's Baby usher in the new year if he's not allowed into the places so many people are celebrating? As long as bars and clubs continue to enforce their anti-baby policy, it will always be 2006 -- the year James Brown died.
A tradition of temporarily relieving the age restriction on alcohol would be like putting milk and cookies out for Santa. Santa won't grace your tree with presents if you don't feed him, and the New Year's Baby won't let the new year come if you don't let him into your bars and clubs... and your hearts.
Let's make 2007 a deathless year.